Visual management screens are used as much in industrial environments as in office environments. They are essential visual aids used in short interval management meetings which allow information to be visualised and communicated coherently to all participants. There are several objectives: Empower team members, quickly identify tops and flops (successes and failures), federate teams around common objectives… But in practice, what is a visual management screen?
SIM, SQCD or QRQC: visual management boards in manufacturing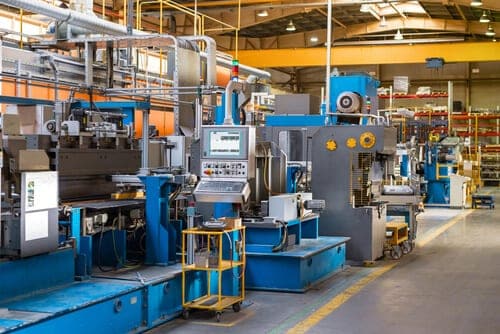 Industrial companies began implementing lean management quite some time ago to improve their overall performance, to reduce wasted time and resources. Visual management is an essential tool in implementing lean management: It facilitates the transmission of information and objectives between staff at all levels to detect problems quickly and take appropriate decisions. To do so, clear and useful indicators (number of units produced, problems encountered, quality ratios …) are communicated visually on a board (digital or otherwise). These are also used by managers in team briefings.
QRQC (Quick Response Quality Control), SQPD (Safety, Quality, Price, Delivery), VPM (Visual Performance Management), DVM (Digital Visual Management) communicate useful and understandable information to all staff on a daily basis. Information communicated is mainly comprised of simple and efficient indicators (objectives against reality, number of errors, critical issues, plans, information…) but above all in real time. This allows everyone to see changes in activity, progress, to make the necessary decisions without losing time, but above all to create a common shared vision across the whole company.
Management panels appropriate to each situation
To be efficient panels or screens must be appropriate to the level of communication and the areas allocated. We distinguish three types of panel: The flash panel, the central team panel and the factory and reception panel.
For operators, communication is most efficient when directly at the workstation, with appropriate documentation made available, a production dashboard, machine performance indicators on a flash panel.
At team briefing locations (or central stands), a compact screen will be the most appropriate. This will help communicate useful summary information about daily team operations. This is therefore the central team panel.
For sector or workshop displays, a larger panel is more useful to summarise the information across all workstation groups. This is also a central panel but for the workshop.
And finally for the whole factory, a comfortable (user-friendly) area can be fitted out to bring together all teams for progress updates on projects. Here too, a panel or interactive screen could be installed to attract the attention of team members and make meetings more dynamic and interesting. We call this type of panel the factory and reception panel.
Of course every company is different, the spaces available too, these guidelines are therefore adaptable in each situation.
Beyond manufacturing: Visual aids integrated into short-interval management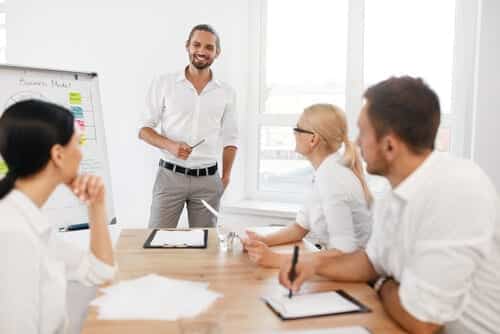 In manufacturing, as in the office sector, many team briefings are held at all levels: from operators to top management. In an era of sharp and efficient meetings, it is important to find new ways to make meetings interesting and dynamic. Companies are changing their habits to use more agile methods such as standup meetings, daily scrums or sprints in corridors.
These new approaches facilitate efficient exchanges in a given time.
It is understandable then that visual management screens have become a vital part of company management. These tools improve team working and performance, they provide structure to exchanges and enable the easy sharing of information at all levels. Even if different from one company to another, all visual management screens have one common denominator: the publication of and emphasis on performance indicators.