Measuring, establishing standards, leading teams around these issues: this is the key to success in controlling energy consumption in industry.

Managing consumption to achieve the best possible energy efficiency: the challenge is nothing new in the industry. Because with 25% of the total energy consumption in France, the industry is very "greedy" in energy (electricity and gas in the first place).
Converted for a long time to the precepts of lean management (tracking waste, seeking efficiency and sobriety), industrial companies therefore logically have in their sights the management of their energy consumption. And some, such as tableware leader Arc International (Luminarc, Arcopal, Cristal d'Arques Paris, etc.) have taken a step ahead of the question.
SUMMARY
 Controlling and optimizing energy consumption: a vital challenge for industry
In addition, manage your consumption: 4 steps to achieve it 
Visual management and energy management: 3 tools to inform and animate your teams
Monitoring and optimizing energy efficiency: a vital challenge for industry
An unprecedented energy context So it's not new… but it's become vital:
the energy bill represented 6.7% of industrial turnover in 2019,
this percentage will more than double in 2022 with soaring energy costs!
With the key to slowdowns, even total shutdowns of production, which have multiplied since the start of the 2022 school year. And all the studies show that energy prices will continue to increase in the years to come.
To these purely financial motivations are added:
an increasingly strong environmental concern of consumers, employees…: energy sobriety is no longer a subject that can be ignored,
greater pressure from major contractors, who demand more precise energy efficiency indicators from their suppliers, and above all proof that they are making efforts in terms of environmental responsibility,
targets (ambitious AND mandatory) for reducing greenhouse gas emissions (as part of the National Low Carbon Strategy (SNBC) of -35% by 2030 and -81% by 2050 compared to 2015 for the industry.
In short, whether you look at your economic indicators, whether you are more concerned about CSR, or simply trying to fulfill your legal obligations, the conclusion is the same: you can no longer ignore this issue
A shopfloor monitoring
Until recently, manufacturers mainly attacked the problem of their energy consumption with a logic of "management control", with analyzed expenses:
by large masses (at the level of the factory or the various production areas), therefore not necessarily "useful" or readable by the operators and team leaders,
a posteriori and over a long period of time, disconnected from that of production.
To "turn a corner" in the management of its energy consumption, the latter must therefore be done as close as possible to the field. Benefits ?
more finely measure where overconsumption takes place,
be able to react quickly to anomalies,
lead the teams around real indicators,
finally enter into a logic of continuous improvement of its energy efficiency.
Sound complicated? Not that much! The methods you will have to use to hunt down superfluous KWh are exactly the same as those used to manage production performance: obtain the right data, define standards to be respected, share indicators and lead the teams on this basis. 
Arc International example

Between 2010 and 2021, Arc International has already reduced its CO2 emissions by 24.4% per ton of glass. Better control our consumption of energy and fluids, and involve all the teams at their level in the management of this consumption: this is the way to go to further improve performance on this point.
Managing your energy consumption: the procedure in 4 steps
Step 1: capture the data
We only improve what we measure: if you haven't already done so, your approach to optimizing energy performance therefore involves installing tools for measuring consumption machine by machine, or production by production zone if you plan to work on a less fine "mesh". These tools are sensors, connected objects, meters… everything that allows you to take consumption readings.
As far as possible, since this will make your analysis work easier later on, these tools will be:
connected (IoT), in order to allow you to report data in real time and draw structured lessons from it, coupled with a production management solution (such as an ERP),
in order to be able to match your energy consumption with the activity of the factory at a given moment: which references were then in production, which volumes, etc.
Step 2: establish the standards
Collecting "raw" data is already that. But without an order of magnitude, or notion of what a "normal" production cycle represents in terms of consumption, it is hardly useful.
The second step will therefore consist in analyzing the consumption data that you will have collected beforehand, to deduce a "normal" consumption benchmark:
by machine, by zone, by shift…,
seasonal (if the activity is seasonal),
and above all related to work in progress: OF, reference, volumes produced, etc.
Arc International example 

Our objective at this stage was to memorize the information from the settings that allow us to manufacture:

a precise reference,
on specific equipment,
with the tools described.

We then obtain "standard" consumption which will serve us as a reference for the future, with regard to what we will observe as actual consumption.
Step 3: translate the data in KPI
At this stage, you therefore have reliable indicators on what production must "cost" you in energy, in normal times. And are therefore able to measure deviations, in order to make corrections if necessary.
The issue now? Share this information with your "field" teams, so that they become actors in the energy management of the plant. And therefore translate your kilowatt-hour deviations into understandable and readable KPIs.
It is at this stage that visual management will take on its full importance, by:
converting the data into more meaningful units (percentages, or euros as ARC International does)
featuring the figures in more readable formats: different color codes for positive and negative deviations, histograms or curves, graphic materialization of the production line, etc.
The objective: to make this information as digestible as possible, to facilitate the reaction of the teams.
Arc International example

Rather than kWh, we have decided to compare "standard" consumption and actual consumption to display them in euros, which is more meaningful for those involved in the production line.
Step 4: make data available
Accurate, real-time, understandable information… You've come three quarters of the way! There remains an essential question: how to make it visible…
as close as possible to the operator stations,
… in the animation rituals (AIC) of your teams,
… by managers.
For team rituals and display in production workshops, large screens displaying your wallboards will be ideal. For managers, the same indicators deported to dashboards (accessible on their computers and smartphones) will complete your distribution system.
Arc International example

With Pingflow, we had already deployed screens to monitor the performance of our production lines, OF by OF, and hour by hour. We "duplicated" this system, in which the teams had their benchmarks, to display our energy consumption readings compared to the standards: thus, each operator visualizes the differences at a glance (if there is a difference).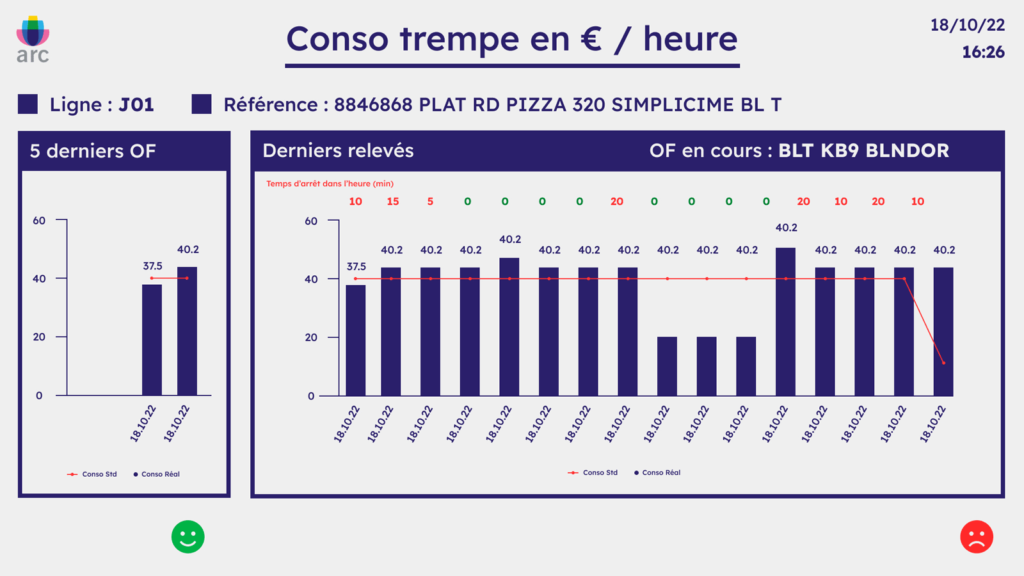 Visual management: how to put energy efficiency at the heart of employees' concerns?
By distributing your KPIs to the right people, in the right place and at the right time, you will be able to capitalize on all the work done upstream to inform, alert, and animate your teams on the subject. But each of these objectives corresponds to a very specific type of visual restitution…
"Andon energy": to react to major differences in energy consumption
It's a bit like the first stage of the visual management "rocket" adapted to managing energy consumption: triggering a rapid response when significant overconsumption is observed.
In the same way that you may operate with an advance/delay andon in production, setting up an "energy andon" will allow you to:
to rely on a standard consumption level at time T, trigger an alert,
make it visible and locatable when you measure a deviation,
to organize the escalation of the alert (operator level, then team leader, then workshop manager).
TO READ> andon system : CLAAS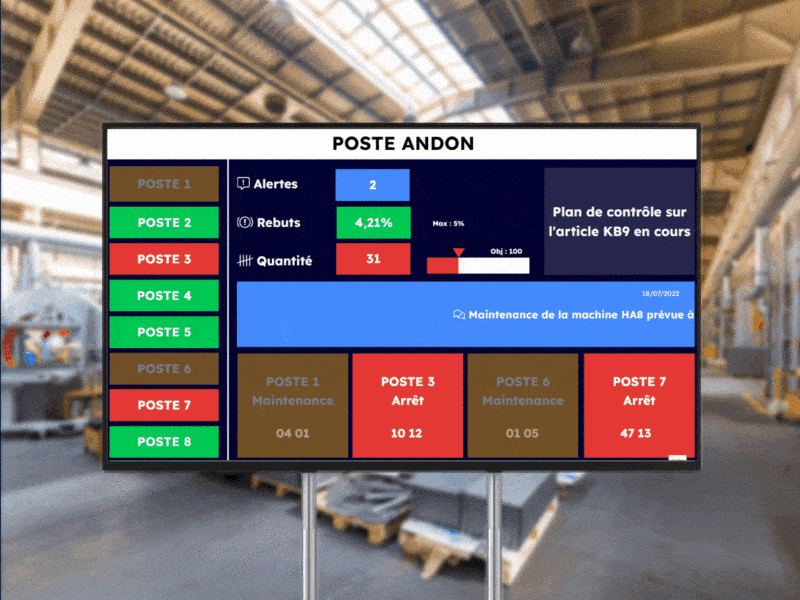 SQCDP
E
: integrate the environment/energy dimension into your entertainment rituals
Increasingly, the SQCD is evolving towards an SQCDPE, integrating the "Personal" and "Environment" dimensions into collective animation rituals. But for this "E", companies are often less well equipped with indicators than for the production and quality part. However, without regular sharing of KPIs, the subject quickly disappears from people's minds…
In an SQCDPE, a part of the screen dedicated to these issues will make it possible to bring the subject into the rituals, and to make it a shared concern. With indicators such as:
Dans un SQCDPE, une partie de l'écran dédiée à ces enjeux va permettre de faire rentrer le sujet dans les rituels, et d'en faire une préoccupation partagée. Avec des indicateurs tels que :
the energy consumption of the last period compared to those of previous periods (to measure the progress of your energy sobriety approach),
areas or machines with significant deviations observed (to be investigated, explained, then corrected),
KPIs relating to the consumption of fluids (water, gas) and emissions (smoke) can also naturally find their place in these screens.
 Arc International example

Beyond the technical considerations, the management and leadership of the teams is key in this type of project. Today we have 34 production lines equipped with this visual management system for energy performance: it is now a question of integrating these results into the rituals for facilitating the performance of the lines.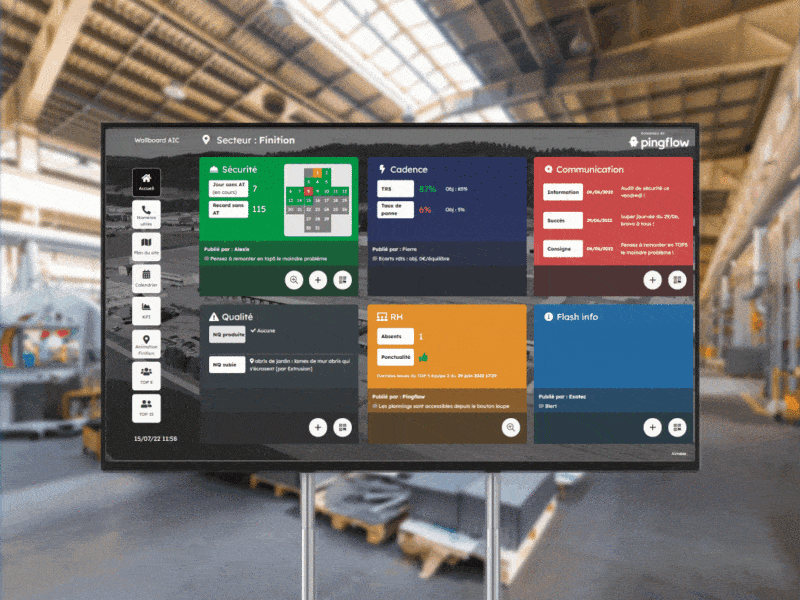 OKR: fostering continuous improvement
React, manage… to these 2 essential issues in controlling your energy consumption, we can add a third: give teams the means to strive for continuous improvement of the energy efficiency of their workshop. Because without continuous improvement, it will be difficult (if not impossible) to meet the objectives of the 2030 carbon plan (SNBC).
This involves the integration of OKR (Objective and Key Results), who can be  :
derived from the company's CSR commitments, each production unit, workshop, team, etc.
contributing to the objective defined by management, worn by the teams on a voluntary basis.
Integrated into the animation and communication screens (in the assembly areas of the factory for example), these OKRs allow the teams to project themselves in a long time, and to make the link between their performance improvement projects energy and the "big picture".