Miro, a powerful ally for your PingView wallboards
Miro is a visual collaboration platform for creating virtual whiteboards. It is intended for product / project managers, designers, developers or marketing manager in order to help them better organize their work. The tool offers ready-to-use templates (examples: agile management, UX design, diagramming, generation of ideas, help with business analysis and strategy …) and is perfectly complementary with the PingView wallboards.

Users can also share concepts and ideas using the collaboration tools built into the platform like Google Suite, Slack, Dropbox, Microsoft Teams, Jira, Sketch etc.
The Miro platform was designed to help geographically distributed teams collaborate as if they were in the same room and help them gain shared understanding, and therefore alignment, by allowing employees to visually express their ideas. It is also possible to include a videoconference directly in the Miro board.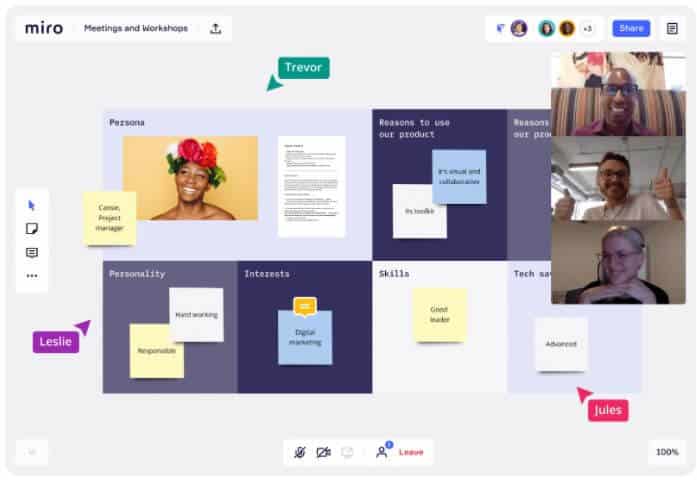 Use case: from the mood of the day to the famous kanban board
We have tested 3 use cases that we present to you in this article and that might inspire you. You can easily integrate them into your wallboards thanks to the Frame widget.
Daily frequency: the wheel of emotions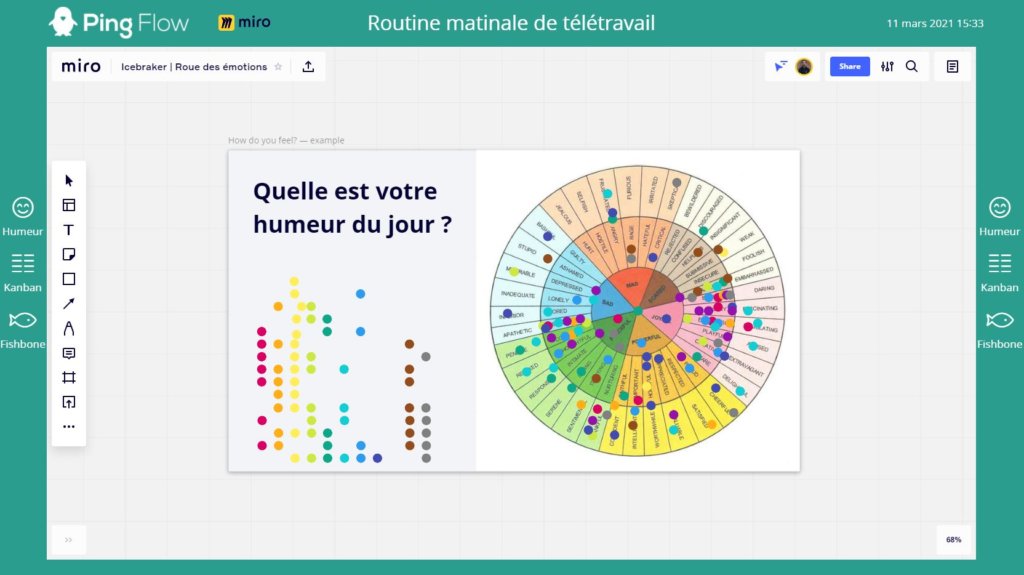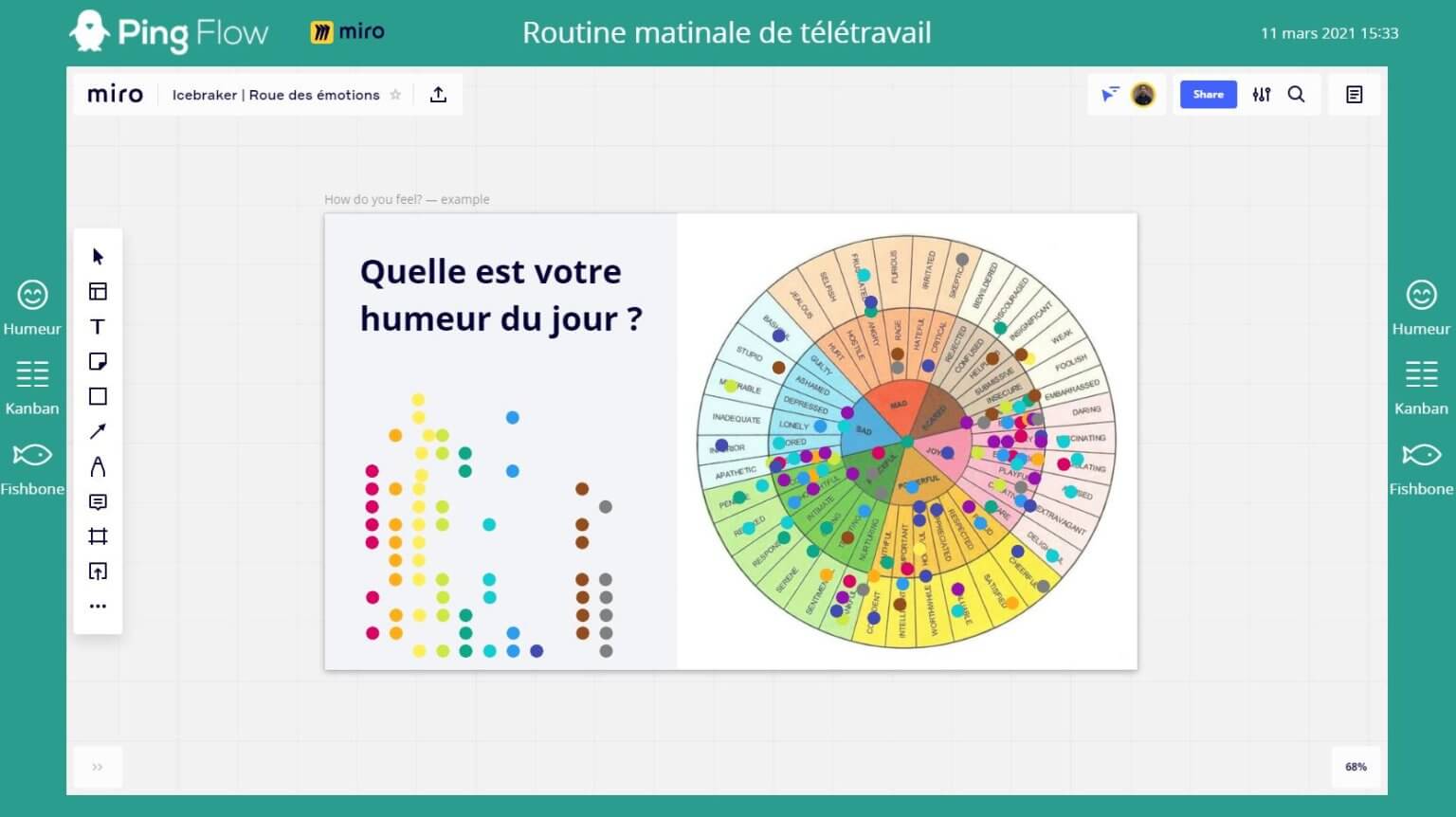 On this first painting is a wheel of emotions. With the spread of teleworking, it is increasingly common for meetings at the start of the day to include time devoted to taking stock of the mood of employees. Instead of a simple "I'm fine" or "I'm not going too well", this wheel of 72 emotions will allow each employee to come and place a sticker representing them on one of the sections of the wheel.
Weekly frequency: kanban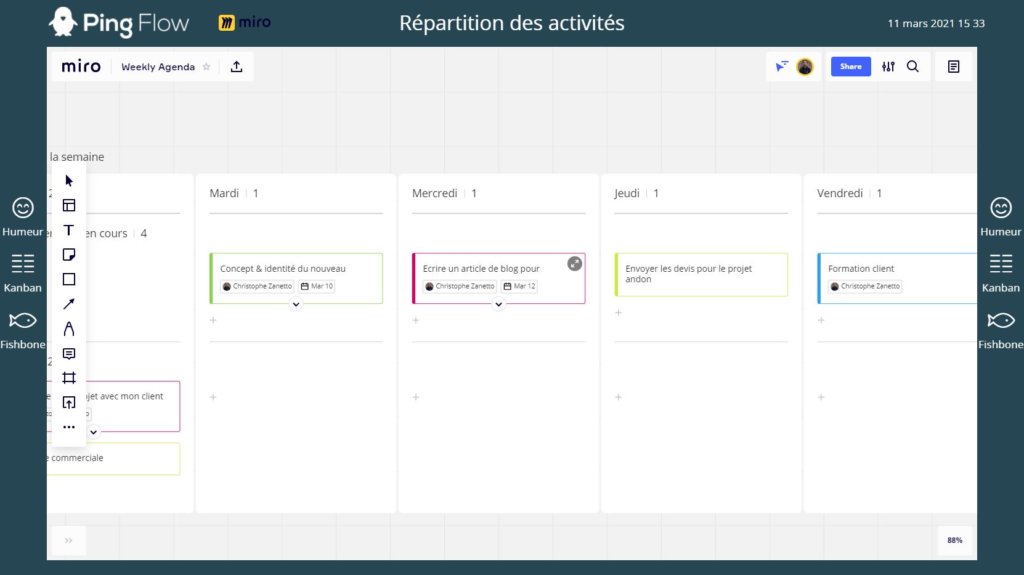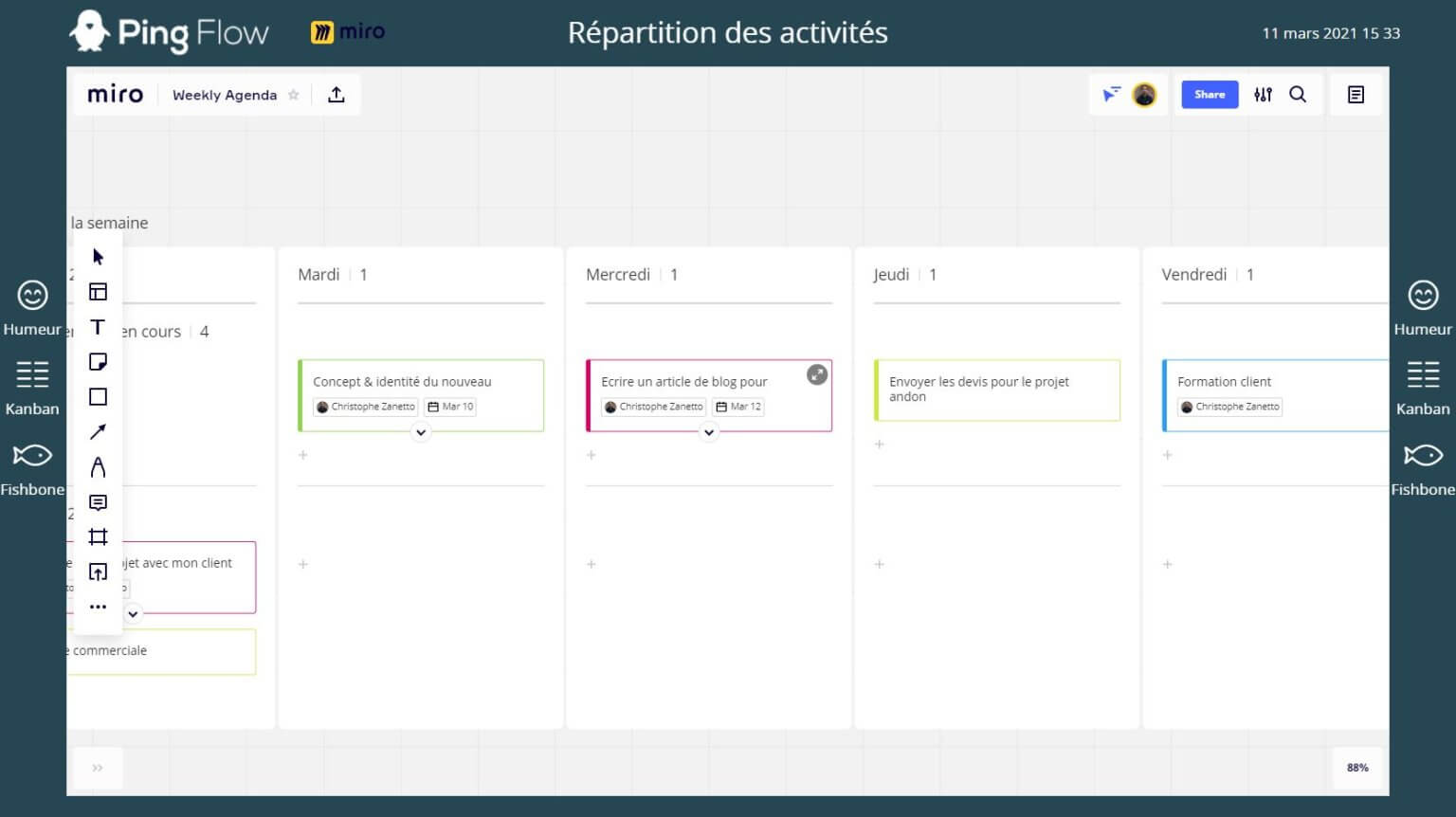 We will not present the principle of kanban because everyone knows it. Very handy for planning your day or week, viewing the Miro board in PingView makes it easy to share the view with the whole team.
Point frequency: the "fishbone diagram", Ishikawa diagram or even "cause / effect" diagram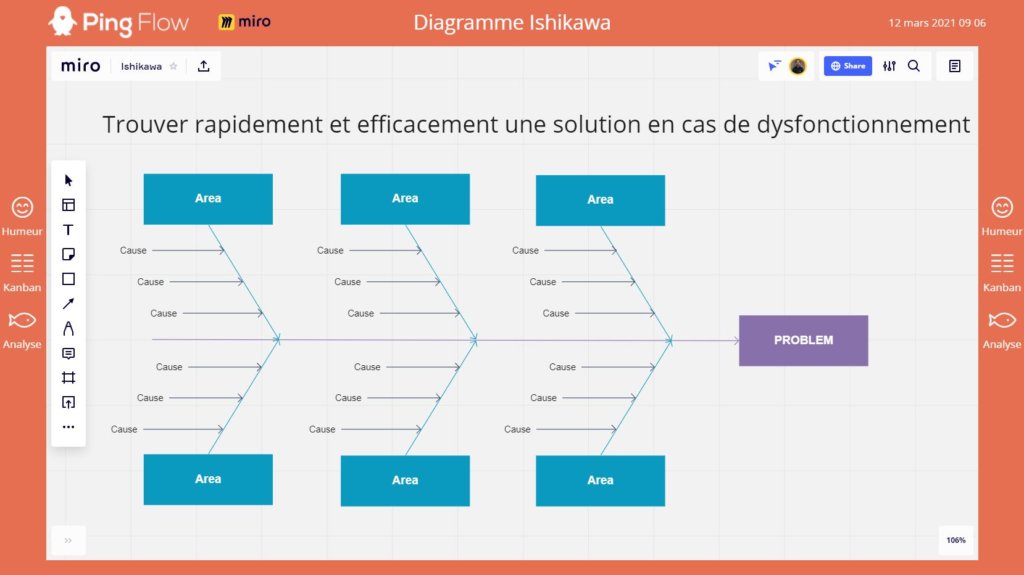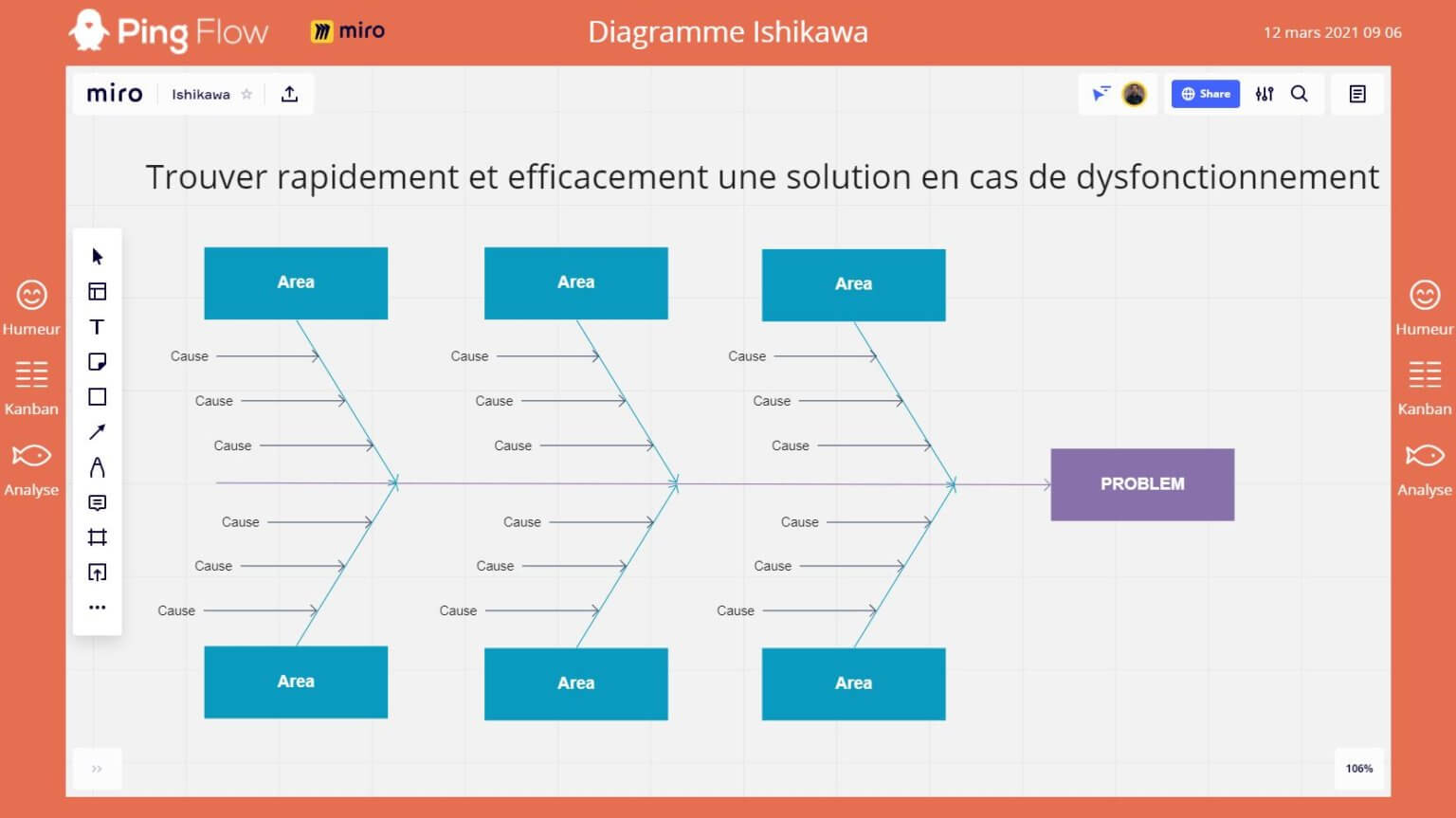 Recalling the skeleton of a fish, the purpose of this visual tool is to list the causes which have an influence on an effect (a situation), to classify them, to prioritize them. Widely used by quality specialists, the Ishikawa diagram is in fact applicable to all of the company's trades.
Your Miro boards in PingView to improve the unique team portal
You will understand: the possibilities are endless with Miro tables and you can quickly get lost having to manage several tables. The advantage of integrating them into PingView is that it makes it available to end users only those who have an interest in generating value during a meeting or idea generation session. The other advantage is to keep these tables in the wallboard environment, making it easy to return to your business indicators at any time without having to open or hold several tabs. Also remember to pin your PingView wallboards in your Teams space to facilitate team membership.