Internal communication is crucial for any business. Even more today with the health context and the evolution of remote work. Never has the need to unite employees around the values ​​of the organization has been so strong. How to bring managers and employees together? How to communicate effectively around the activity of the company, its objectives and its values? How to better share information and data? Many companies are turning to digital signage and wallboards *.
How to use them well? How to create a corporate culture thanks to these supports? Elements of answer in this article.
Use wallboards to improve internal communication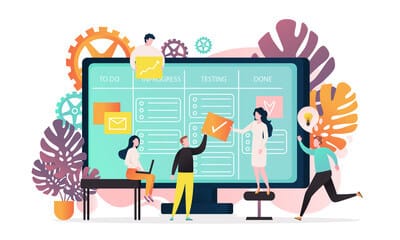 Digital Signage, through the distribution of content on various screens, has several benefits:
Inform employees: the use of screens makes the information impactful by diversifying the formats of shared data, in the form of pictograms, diagrams, illustrations, images, often more powerful than words …

Messages are thus more easily seen and retained.

Involve and engage teams: wallboards are real supports for displaying the real-time activity of your employees: their progress, blocking points, celebrating successes … It is a way of valuing them, highlighting their efforts provided and motivate them to surpass themselves.

Unite employees: digital signage is an excellent means of disseminating over the long term the elements of a common corporate culture: value, principles of collaboration, team rituals, etc. This makes it possible to weave the feeling of belonging and retain teams, who will feel valued and want to invest more.

Harmonize communication: to spread a strong and coherent message, it is necessary that the communication media be harmonized. By controlling your screens remotely from a single computer, you can broadcast the same message to all your sites, all your services in just a few clicks. In addition, you can also broadcast personalized messages to each of your establishments or departments.

Improve the company's brand image: beyond your employees, partners and suppliers are also attentive to the modernization of the companies with which they work. Setting up digital signage, updating media and distributing attractive wallboards also give an external digital image of your organization.

Give visibility to the activity of the company: wallboards make it possible to display the key indicators of each business and department in order to break down silos and stay informed about the health of the company.

Use wallboards to create data driven communication
Beyond the internal communication objectives, wallboards are excellent tools for sharing data, making visible what is often invisible and better managing teams. The distribution of dashboards, visual and colored, to highlight certain figures, makes it possible, for example, to define action plans to rectify the situation if necessary (number of calls handled, calls lost, tickets made, etc. ).
Thanks to this, employees have useful information, become aware of the data and can review their priorities, based on the various indicators. Not only does the data become accessible, it is thus placed at the center of the organization.
Digital signage and remote: mission impossible?
Very often, companies deploy screens, animate them site by site by appointing referents responsible for their update. With the massive deployment of telework, many screens are dormant. The teams therefore no longer have the information shared and risk resuming their old work habits: less collaborative, decorrelated from the key issues of their teams or their structure.
However, it is quite possible to update the wallboards remotely and create access from collaboration software such as Microsoft Teams for example!
Thanks to digital visual management software, you can control your screens remotely, choose which wallboard to broadcast, when and where. Very easy to use, the tool only requires a few clicks to update your screens and continue to communicate with your teams on site. This has several advantages in terms of internal communication and corporate culture: the continuity of the sharing of KPIs, the facilitation of remote teams, the dissemination of internal information to continue to unite the teams, even in difficult times such as this. of the health crisis…
All of this is essential for building data-driven communication, a real competitive advantage for companies. This is no longer to be proven, digital signage is a real asset for internal communication and the data driven culture. And teleworking or the mobility of your teams should not be a barrier to its deployment. To go further, we invite you to discover the PingView visual management solution and the PingPlay platform. And, if you have any questions, please don't hesitate to contact us.