Using data and digital technology drives companies to review their working methods. Management methods must evolve to accompany this transformation. By using multiple data sources, agile organisations can be developed and an environment which favours creativity. This is often called data driven management. But how to implement these new management methods in practice? How to coordinate teams around data? These are all questions that we will attempt to answer in this article.
Data driven management : Communicate to and inform teams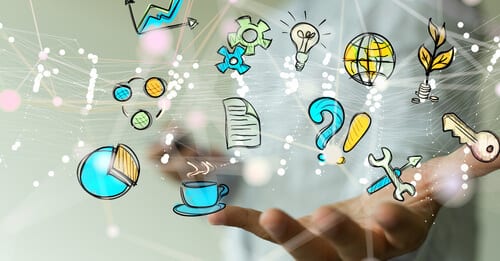 The first objective of this type of management is to improve communication with teams. The objective is to supply them with totally transparent information. It is therefore necessary to define indicators which are useful for the company and to communicate them in an efficient, visual and intelligible manner: Financial KPIs, HR, business areas …
To do this, several means are available: By email, by instant messaging systems such as Slack, in dashboards, paper display, digital displays … In the era of the digital workplace, we recommend that you implement digital tools, easier to update and develop, more attractive to your teams. Visual management screens are an excellent way to promote the communication of internal and external information. This also allows companies with several sites to communicate with teams no matter where they are located. Everyone has the same level of information, which brings teams together.
Data-driven management : Encourage cooperation
Establishing data driven management favours collaboration between teams and the commitment of employees. A clear vision of activity at any one time allows you to evaluate the current workload and to mobilise the resources to meet the requirements. Of course, with better visibility, areas which are underutilised may be able to assist temporarily those who need it.
In the data driven management approach, it is important to communicate KPIs but also best practices, tops and flops but also action plans with a view to solving problems as part of continuous improvement … to find solutions to issues quickly and not allow the situation to deteriorate. Teams will be more engaged in their missions, as they are listened to and their feedback valued. It is well known: That the engagement of employees is a source of value to companies.
Data-driven management : Coordinate and federate your teams around data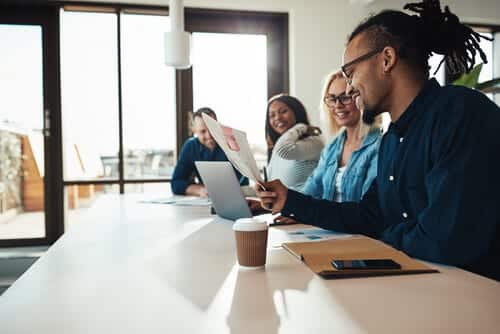 In many companies, ritual briefings are part of everyday working practices. So why not use these opportunities for discussion to reinforce the use of data driven management as part of the company DNA? It is time to transform these meetings to make them more efficient. Visual management screens are very useful vectors for this: They allow you to illustrate your points of view, which will be much better retained by team members. This also allows for dialogue and increased exchange on KPIs displayed to develop and implement relevant action plans. You can discuss workload, to see what teams can take on or otherwise, to update plans as required, resolve problems together, request help if necessary, emphasise the success of certain projects, and communicate best practices.
With data driven management, the role of managers changes : It becomes more of a coordination role than one of giving orders. Do not hesitate to reinforce this transformation by offering team members the opportunity to chair team briefings (if they are willing); this reinforces their commitment. Initially, this requires more preparation time by management (define the information to display, build dashboards, update files …) but there are enormous time savings down the line as teams improve their productivity and engagement. By facilitating information sharing, visual management helps to highlight the little problems which can hold up operations. The company therefore needs to meet these challenges head on and adapt to find solutions. Just as visual management will also be used to illustrate progress made and celebrate collective successes!
If visual management allows you to improve team working and productivity as part of a data-driven approach, take care not to bury your teams in information, at the risk of losing focus. It is an additional means of communication, but is not a substitute for other collaborative tools or ways of exploiting data. If you would like to use this approach but don't know where to start… Do not hesitate to look for support from an expert partner.