In order to best facilitate the dissemination of safety and hygiene rules within your company for employees, whether they are teleworking or on site, we have set up a wallboard specially designed for the current situation. This posting includes the official communications that any company must distribute to its employees.
How to display this wallboard in my company?
This wallboard, created by our teams, is completely free for our customers but also for companies wishing to facilitate the dissemination of this key information for everyone's safety. To broadcast it, all you need is a screen and an internet browser, whether it's a smart TV that already contains an internet browser, or a screen to which you connect a computer. You just have to launch this URL on the browser in order to display it: https://app.pingview.io/m/public/coronavirus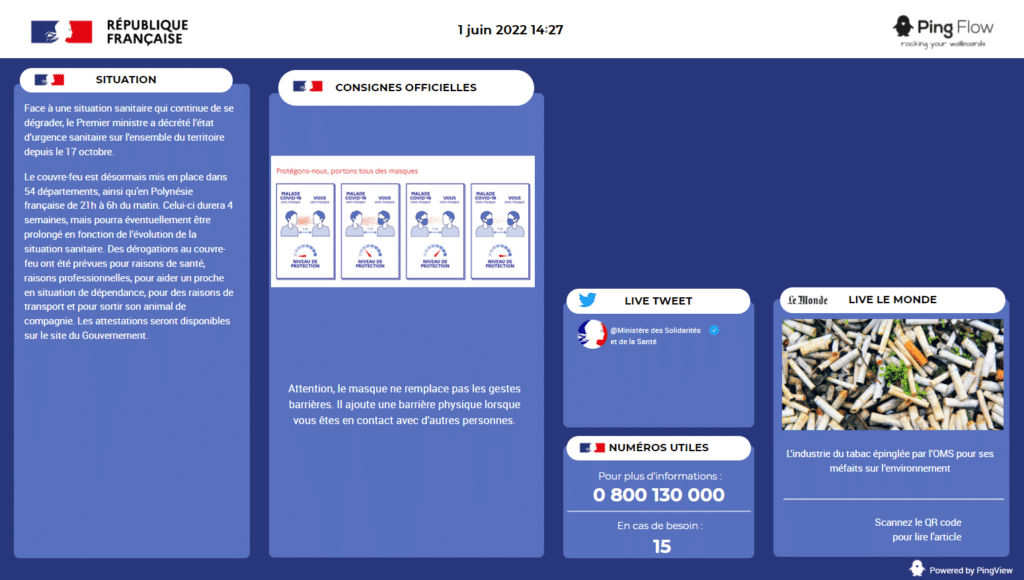 The various information contained in this wallboard will update automatically (Live Tweet, World News Feed, relevant questions). We are also committed to updating regulatory information if it changes in the coming days.
Our solution can also, at the same time, allow you to display information specific to your company (special rules, etc.). You could also share indicators of your team, company, etc. in order to animate your teams, whether they are on site or working remotely (your collaborators can access them via their computer). These indicators and messages can be administered directly by you and your teams in complete autonomy.
If you wish to integrate this personalization within your wallboard, do not hesitate to contact us directly by the following contact form or via the following email address: sav.lille@pingflow.fr for our customers. Our teams will contact you by phone very quickly to assist you.