Supply chain management thanks to key performance indicators (KPI)
Supply chain management and its methods
Manage performance
Supply chain management is based first and foremost on performance management. It's thanks to Strategy – Objectives – Indicators approach that a company can measure its performance.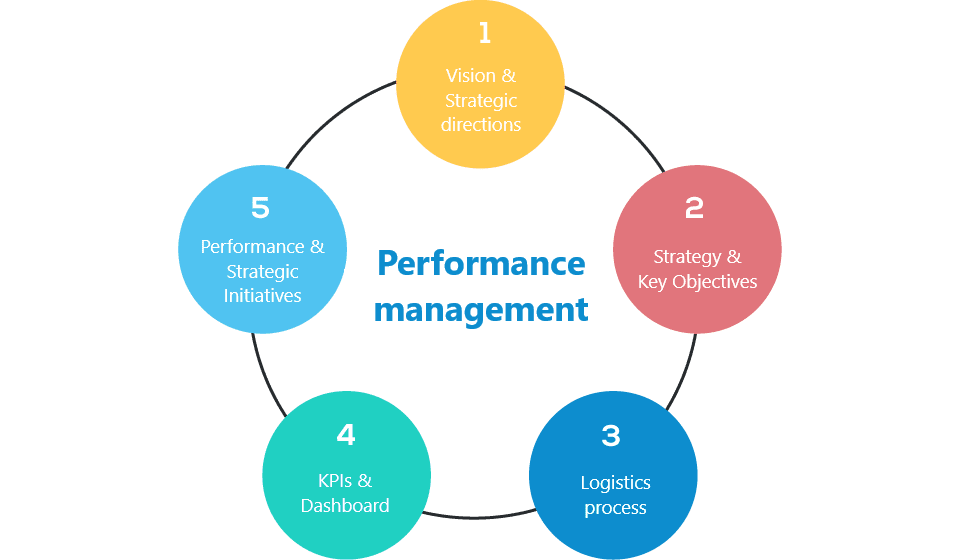 Establish the vision and strategic directions:

The company's vision must be known to everyone and it's on this vision that the strategic directions will be addressed

Create an overall strategy and define key objectives:

It's always necessary to define a strategy with several axes linked to specific objectives

Define the logistics process in relation to strategy:

Logistics processes consist in managing and coordinating the supply chain according to client's objectives

Identify the KPIs and build a dashboard:

This allows to manage the identified KPIs and thus to best manage the teams

Launch the first tests and measure/evaluate performances:

Once strategy is established and implemented and tests launched, a performance evaluation is required to see if the first results are conclusive
Supply Chain methods
There are various supply chain tools and methods and it's important to understand which ones are most appropriate for your problems and needs.
We will focus on so-called internal methods and more specifically on Kaizen and Lean manufacturing concepts.
Kaizen
The word Kaizen is the fusion of two Japanese words Kai and Zen that mean "change" and "good" respectively. So Kaizen means "Analyze for Better". This Japanese approach is based on small improvements made on a day-to-day basis, contrary to what Westerners are used to doing, which is to throw away and start all over again.
Every worker needs to think about their work and environment and come up with ideas for improvement. Kaizen doesn't require a lot of investment but a strong motivation of all employees.
Lean manufacturing
Lean is about avoiding waste and constantly improving. In the same way lean manufacturing means reducing waste by making production more fluid and thus gaining greater flexibility.
More concretely, lean manufacturing helps:
Improve productivity by reducing inventories and ongoing

Increase responsiveness to client requests

Reduce "wait times" thanks to talk-time and

Andon alert systems
Supply Chain control with KPI
As we have already said, for effective management, KPI must be identified but also visible. That's when visual management comes in. This enables KPI to be managed individually and collectively.  These KPI also allow managers to monitor the performance of their teams and thus make the right decisions.
There are standard KPI for the supply chain, which enable to follow the evolution of production for example.
Number of units

= number of products manufactured

Scrap rate

= rate of scraped products

Rates

= operating speeds must remain consistent

Objectives

= objectives of units, scrap and cadence allow to challenge the employees

Cycle

= the duration of a step or total time required to complete a job

OEE

(Overall equipment effectiveness) = machines uses rate (useful time/ time required)

Status times

= waiting, blockages, settings, breakdowns, operations (good and bad)

Lead time

= crossing time (from input to output of the factory)

Real-time gap

from previous indicators
Finally, after identifying and displaying these KPI, it's important to remember to conduct reviews of real-time indicators in order to follow the progress of production and boost operational excellence.
You want to improve your supply chain control using lean and kaizen methods?