Regular team meetings are key moments in the life of the company. They improve the decision-making process, to organise actions and better manage activity while giving team members an opportunity to express themselves.. These team briefings are essential for motivation and performance and foster the development of collective intelligence. How to organise visual management for this to be efficient? We discuss below the steps to follow.
Step 1 : Constituting a project team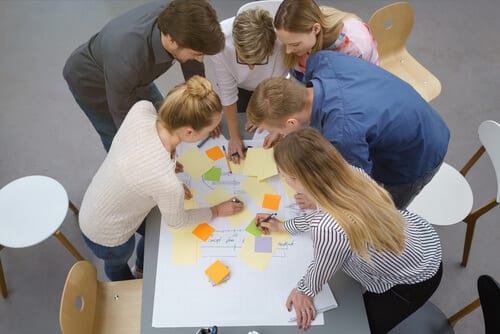 It is essential to have written visual aids available in team meetings to communicate information efficiently. Visual management panels or screens are the obvious choice of tools for this purpose. Once you have decided whether you are going to use paper or digital, you must define themes for the information to communicate, how to update them over time, where to install panels. For this it is necessary to build a team to reflect on these questions and to implement the project.
Managers and operators must be involved. Business area managers must be involved, more 'field orientated' staff to express their requirements, liaise between areas, feel involved in the project and communicate with other colleagues. It requires therefore bringing together a dedicated working group to ensure the success of the project.
Step 2 : Involve teams through Design Thinking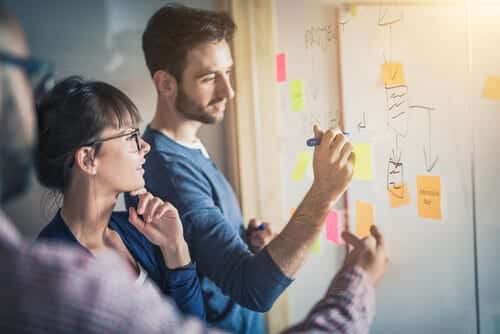 Once your project team is defined, you need to convey the significance of the project to other colleagues. It is very important to consider the whole group for meetings to be efficient. To do so, why not implement Design Thinking workshops? This will allow you to identify the needs of your employees and your company by helping them to formulate requirements in a clear manner. The Design Thinking methodology is simple and is structured around five points:
Empathise: Put yourself in your employees' shoes, understand their point of view and their specific needs.
Define: Reformulate the problem by asking 'to do what' rather than 'how to do'.
Imagine: Generate as many ideas as possible to find the right solution.
Prototype: Demonstrate the results of brainstorming workshops. This step is key to creating your wallboards.
Test: the visual management approach and collect feedback from users to make modifications as needed.
Design Thinking adapts to all sectors and sizes of business, it allows innovative ideas to emerge and, above all, motivates and involves your teams.
Step 3: Involve the visual management partner in your design thinking
If you have chosen to deploy digital visual management screens, it would be beneficial to involve your expert partner in your thinking. Thanks to experience in real-life business situations, your partner will be able to challenge you and share best practices. And as external to the organisation, the visual management partner will be more objective; the process will thus be more constructive for you.
Step 4: Train users
Once you have defined the indicators to display, the frequency of your briefings and you who drives them … you must explain it all to your users. Key users will be called upon to update panels over time. Users, however, will use the screens in their everyday work. Quick training may then be necessary to teach key users about the tools and screens, and will thus be able to promote them amongst their co-workers and other business areas. But it is also necessary to unite your co-workers around this new organisation. Clearly, it will be necessary to support your employees and manage this change, at least in the early steps.
Step 5: Test them in real time in the workplace
Finally, test the solution directly in the field! This will provide a real working situation, enable you to get feedback from co-workers, and then update the screens and your management method. This may not be streamlined at first, but it will improve over time and you will feel more and more comfortable with this new way of working.
Here, then are the five steps to creating your visual management screens and use them during meetings and in operations. Implementing a visual management approach, if properly managed can profoundly transform management. If you would like to find out more about our solutions, do not hesitate to contact us!