This is it, after several months of reflection, management has decided to deploy a digital visual management solution on your production site. So the overuse of paper and loss of production time is over: Your management team is on the verge of a revolution! Only one question remains: Who can help manage the implementation of these systems ? Here are four criteria to choose the ideal technology partner.
An expert in manufacturing technology
First, we would advise you to work with a partner who has expert knowledge of production flows and information systems. This dual expertise is essential for the effective implementation of your digital visual management project. A partner who knows manufacturing and IT is best placed to help meet your objectives and those of your operational staff.They will be able to provide a pertinent solution in line with your objectives.

A modern and effective visual management solution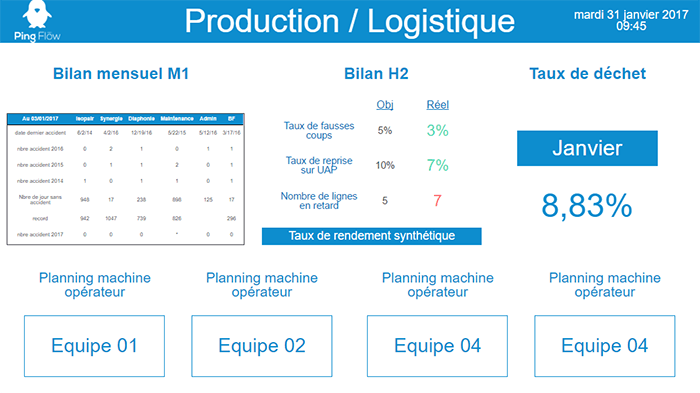 The second main criteria in making your choice is the ability of the (software) editor to supply a simple and ergonomic solution which will simplify the everyday lives of operators and managers. The choice of solution is crucial, as screens quickly become an essential strategic component of the factory. To ensure smooth and intuitive use, the interface must be understandable by all employees. Also check if the visual management solution can be integrated easily and is scalable.

Favour a SaaS solution for ease-of-use (remote updates, lightweight software, scalability, etc.).
A partner that also provides support
Choose a software editor that can offer you a complete package of the application and appropriate display media for your factory (screens, panels, etc.). Publishers who have partnerships with hardware manufacturers offer more attractive conditions for the installation and maintenance of the visual management systems at your production site.
The ability to scale solutions
It is preferable to adopt the agile methodology when implementing visual management solutions in manufacturing, , ensuring attractive ROI (return on investment). You would be well advised to work with an agile provider, both in terms of economic model and support. Initially, the provider must analyse your environment to identify the concrete improvements that can be brought to your production system. Reactivity and flexibility are the watchwords of quality project support and the successful use of visual management solutions.

These solutions are innovative and in constant evolution, as are your requirements. Take care to choose a reliable and trustworthy partner able to give you solid support and help you meet the challenges of Industry 4.0.
The ideal is to find a partner who meets the following four criteria. Pingflow is one of them: If you have a project in mind, contact us!