The concept of the future factory comes straight from Germany with its strategic objective to raise the quality of German industry in the face of Asian Competition. However with accelerating industrial innovation, the concept has entered a new era. The arrival of new technologies has opened the possibility for industry to transform itself and increase its performance.
Even if most companies have adopted the concept, many of them tend to associate this evolution with technological change, forgetting sometimes to place human beings at the heart of this transformation. So together, let's sweep away the stereotypes associated with the industry of the future.
The industry of the future is not just technology
The industry of the future is founded in several important challenges: Economic, technological, organisational, environmental and societal. The marketplace is extremely competitive, innovation is spreading rapidly and clients expect a premium level of service. Companies must invest in resources to adapt to this change. Factories must therefore be thought about differently (redesigned).

Manufacturers must demonstrate agility and flexibility to remain competitive. They must also reinvent their market offering and include new functionality for their consumers, with the highest level of quality possible. To achieve this, the production process must be rethought out. The whole system must be agile, easily configurable and connect with all actors in the supply (value) chain.
Manufacturers hope to achieve this transformation through new technologies.The IoT (Internet of Things), Big Data, machine interoperability, operational management software, collaborative robots, additive manufacturing. The aim of all these tools is to obtain real-time production information and to perform diagnostics automatically to adapt and enhance equipment and the performance of the production process. These technologies allow companies to offer more reliable, competitive, products and services that meet customer expectations. Thus manufacturing, often regarded as behind office-based companies in its transformation, is modernising and learning to benefit from digital technology.
The future factory is also (mostly!) about people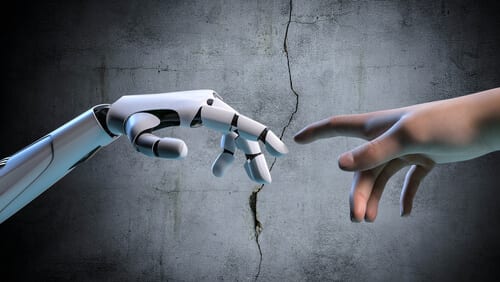 To rise to the challenge of the future factory, production must be rethought out, but that's not all. The very way manufacturing companies operate must be reorganised. Involving all personnel and placing them at the heart of this transformation will make it possible for companies to achieve operational excellence. All the efforts made to digitalise and modernise production can be reduced to nothing if personnel are excluded from the process or feel uninvolved.

According to a study carried out by EY*, 78% of managers surveyed place prime importance on developing staff skills as the main challenge to future manufacturing. Staff training gives real impetus to improved performance. But this is not all, it is also a useful opportunity to rethink management philosophy, encourage staff to develop new skills and use the new digital tools available.
Implementing a digital visual management solution encourages staff to take responsibility for and own their work. By distributing information in real time, operators become more self-managing and communication between production teams improves. In this configuration, managers now have a new role, that of coach more than supervisor, to maximise the added value of everyone.
Even if people have often been left behind during previous industrial revolutions, future manufacturing places them at the centre of and a major player in the process. Manufacturers must therefore allocate sufficient resources to training, rethink their management philosophy and implement tools appropriate to this transformation.
* EY analysis "Believe in the future of manufacturing", 2017