Industry 4.0 transformation
New technologies therefore offer industry the opportunity to reposition human beings at the center of the production process. The field of possibilities is also open at the level of transformation and improvement of industry performance.
Some wallboards for Industry 4.0 transformation
Discover our wallboards : from activity monitoring to  SQCD panel or Short Interval Management (SIM) with a human-centric approach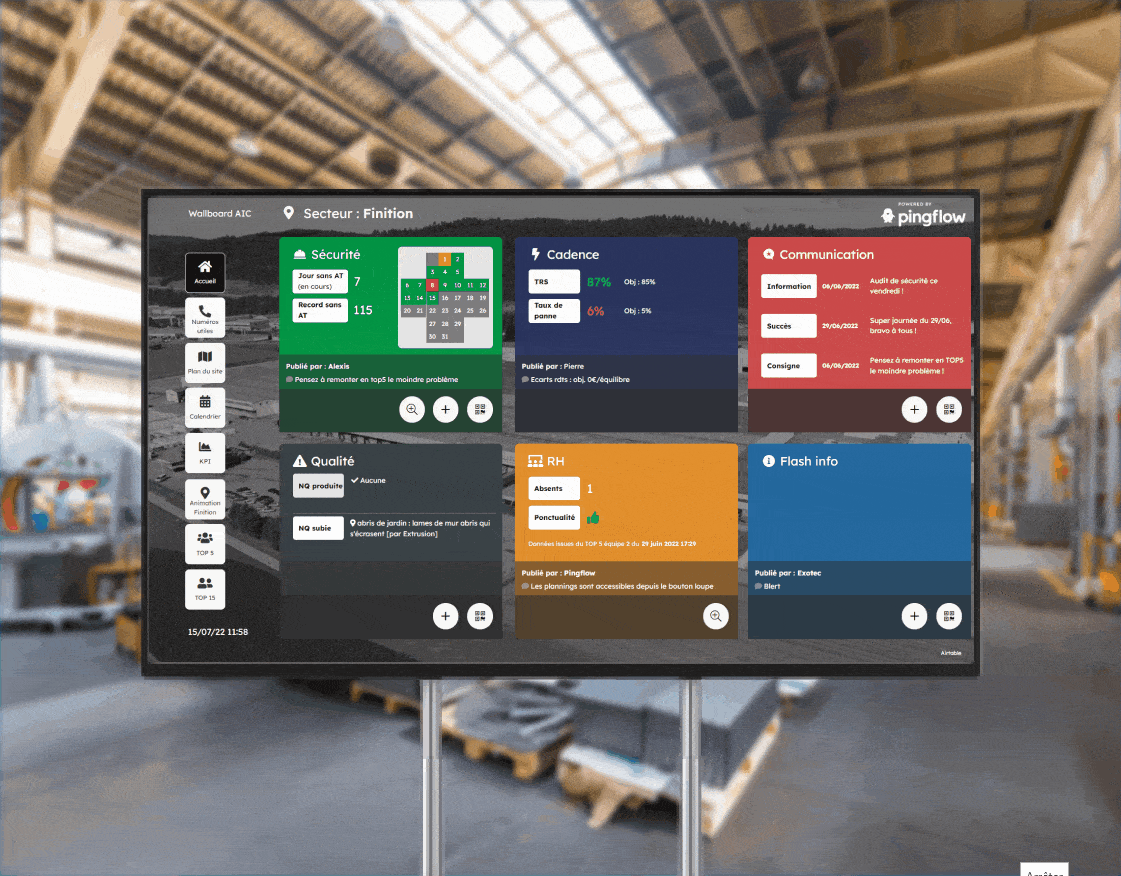 Short Interval Management
This type of wallboard allows you to animate your performance rituals thanks to a global and specific view.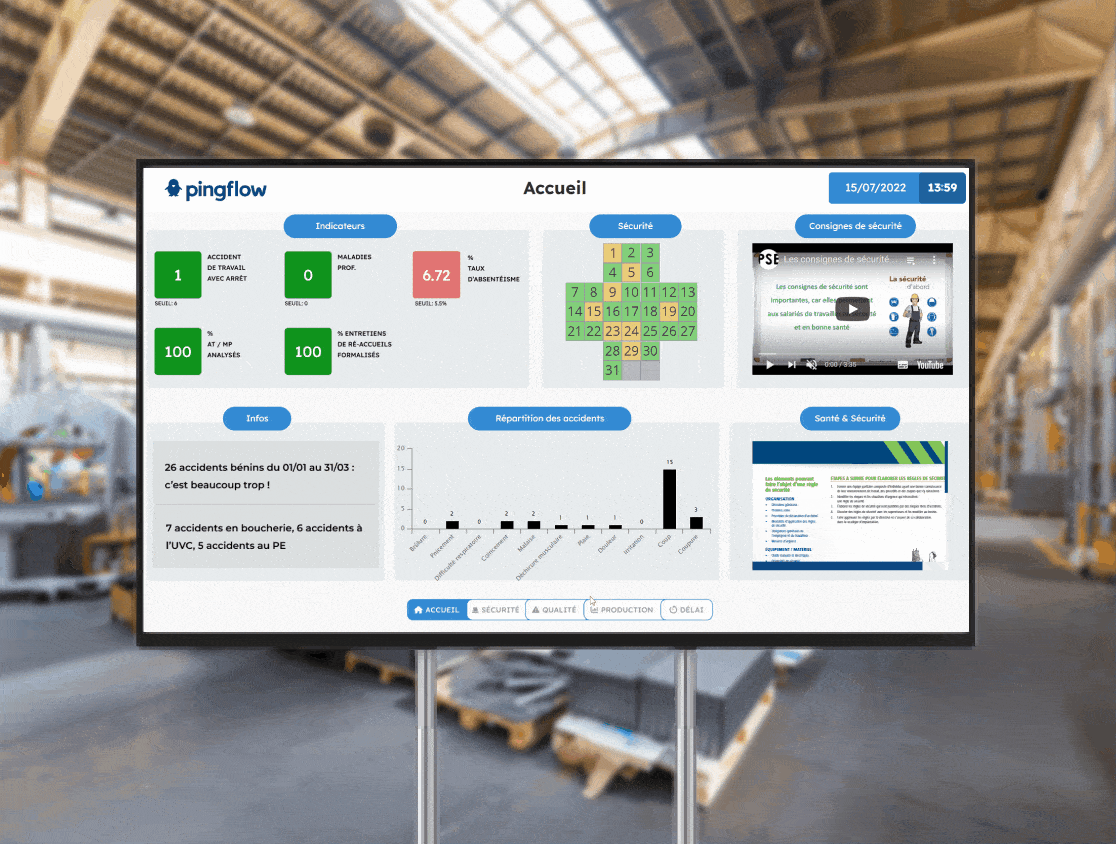 QSE communication
This type of wallboard makes it easy to visualize accidents and their types, while passing important instructions.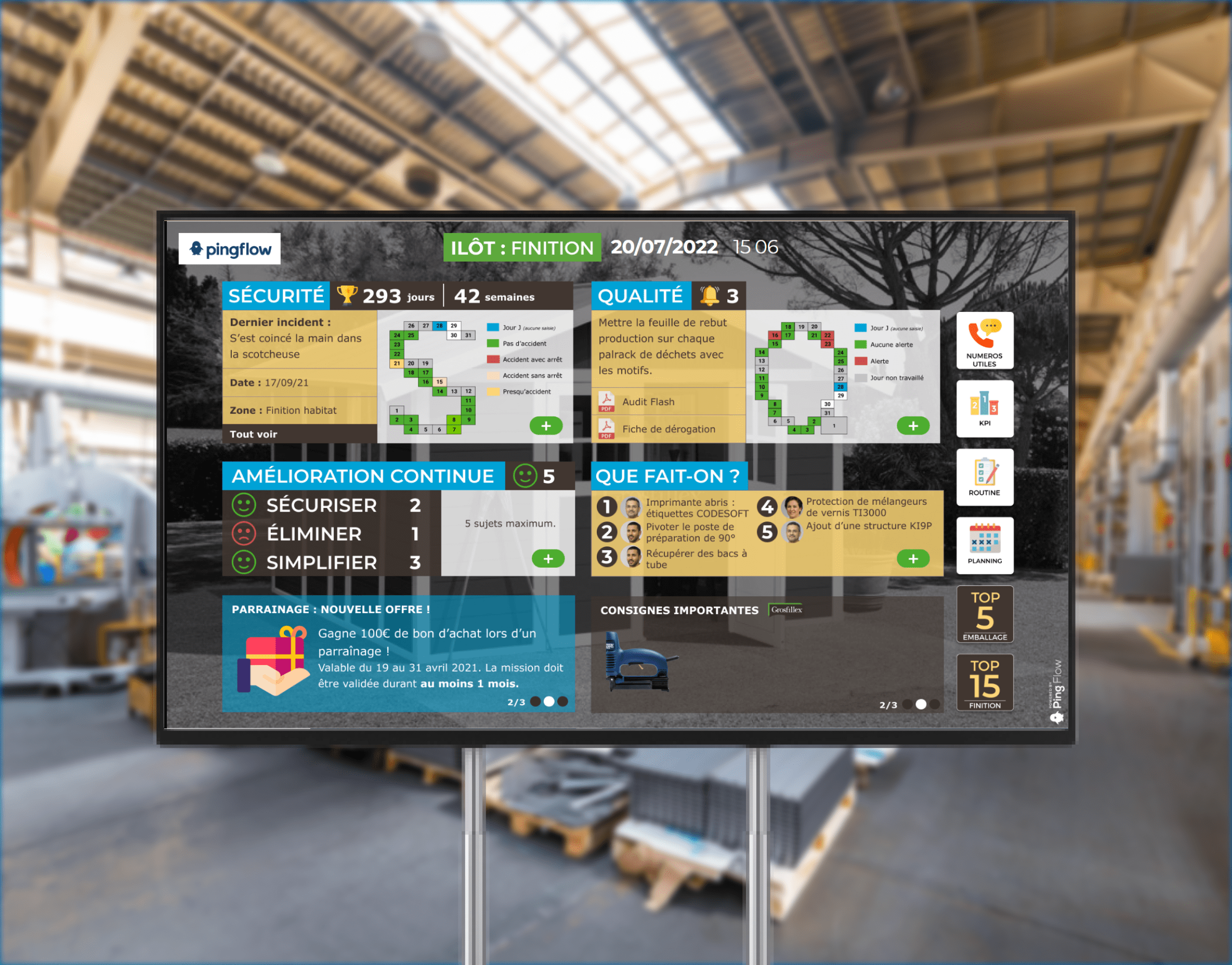 Warehouse load visibility
Just-in-time in warehouse logisticss only processes that can be mapped and measured can be developed and optimized for specific goals to run smoothly, effectively, and reliably.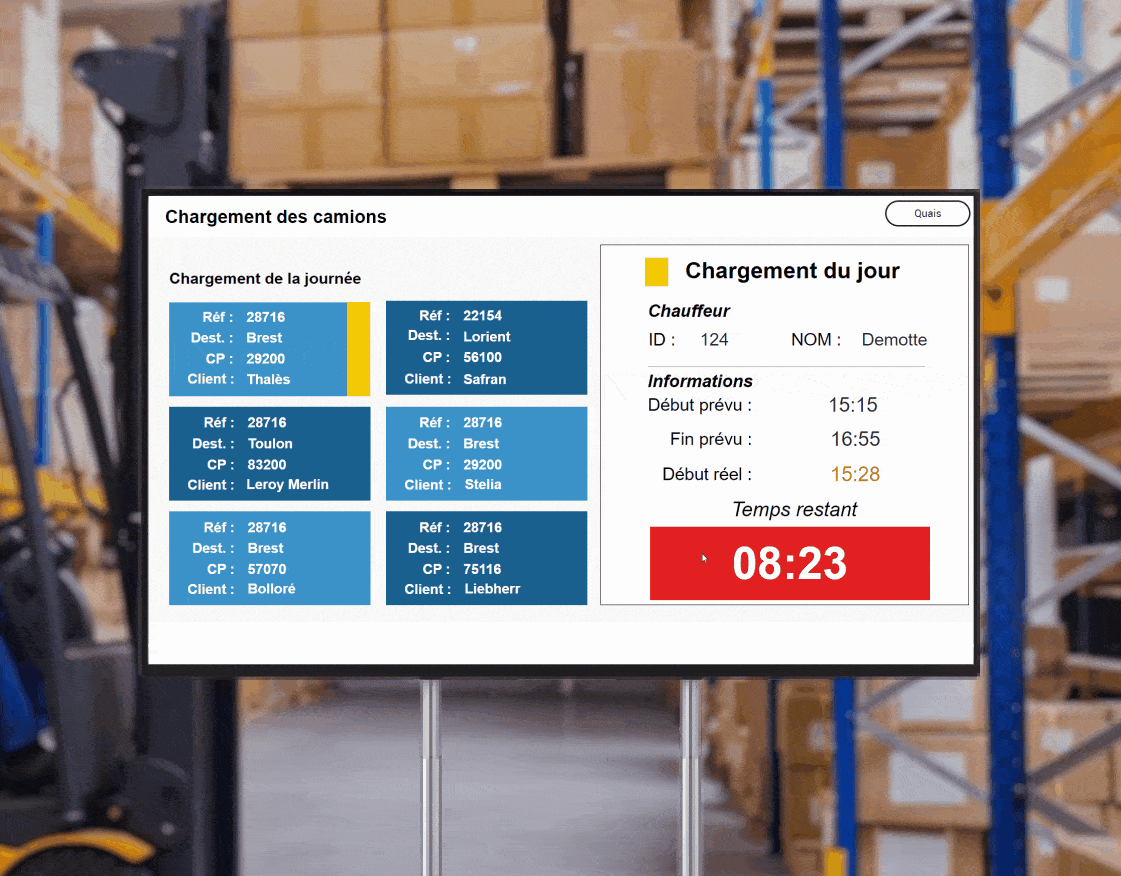 Shipping visibility
This wallboard optimizes the management of shipments within a warehouse.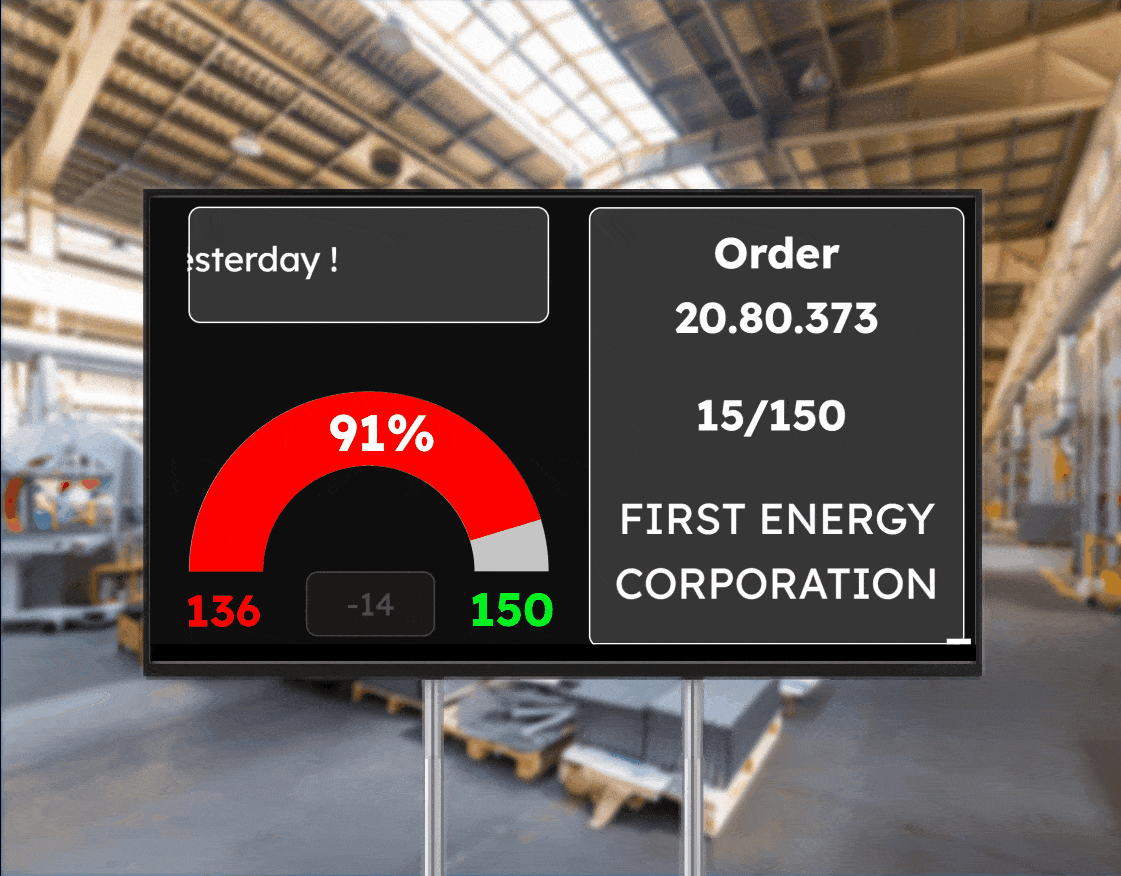 Production monitoring
An adaptable shop floor management wallboard to light up your production data on displays directly on the shop floor and organize the communication of your data even more efficiently.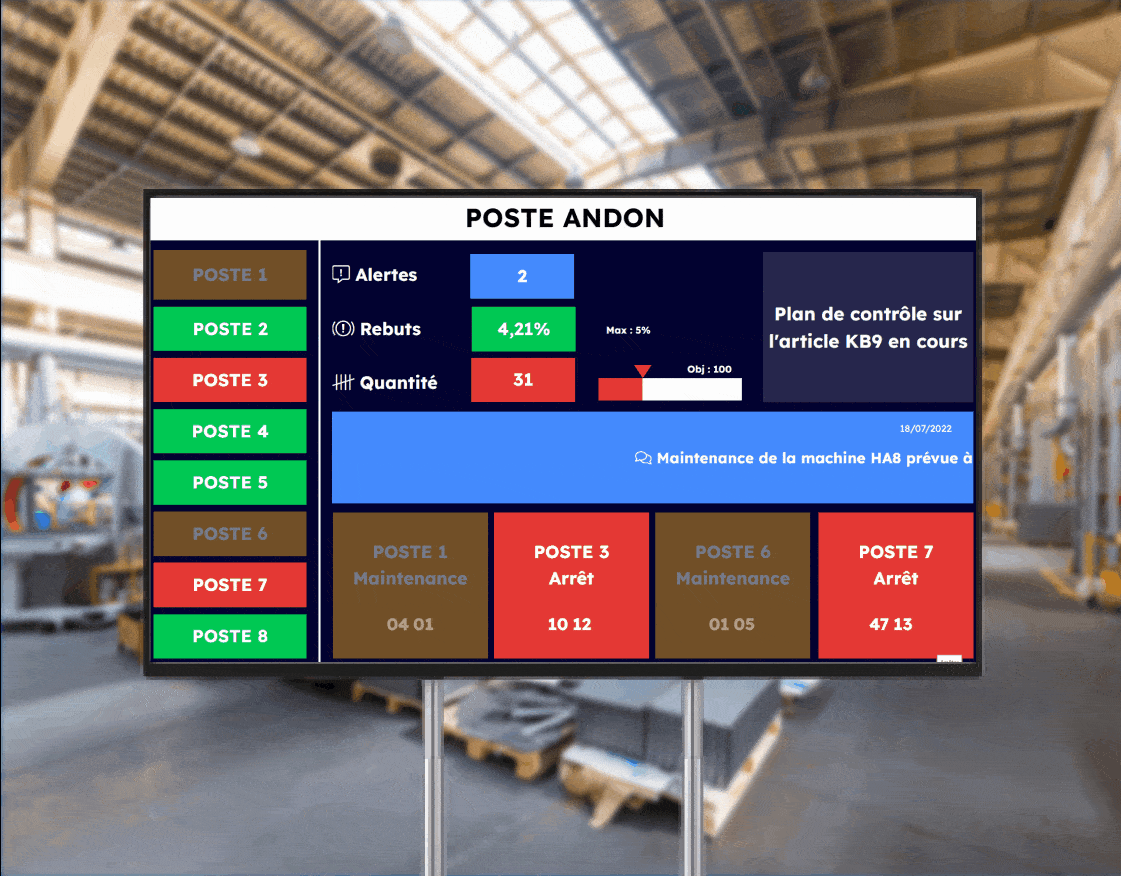 Andon Board
This wallboard allows you to follow the line stoppages in manufacturing and know where to act first.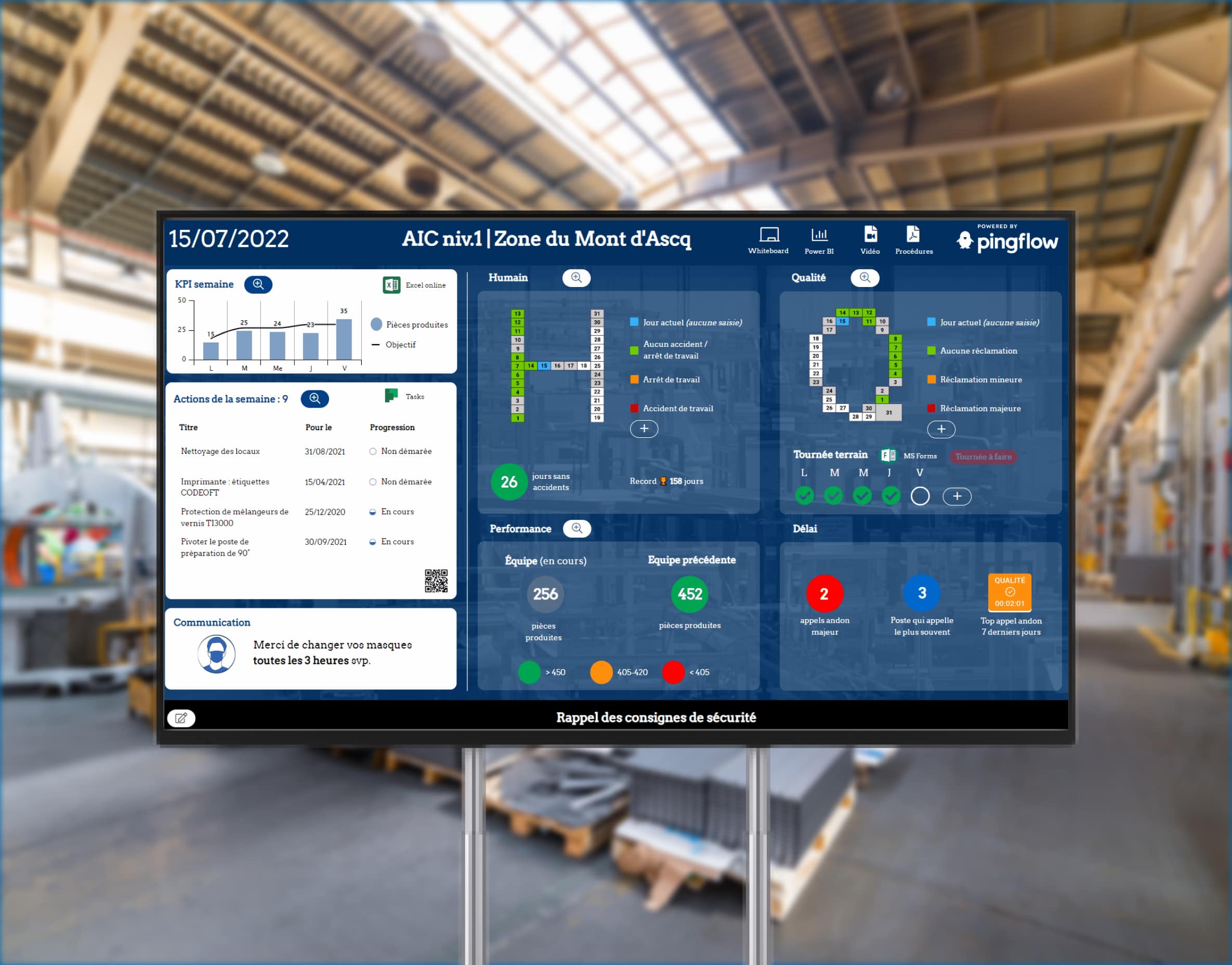 Visual management of performance
This type of wallboard allows to combine the instructions of the day, an overview of the activity (smileys) and custom graphics.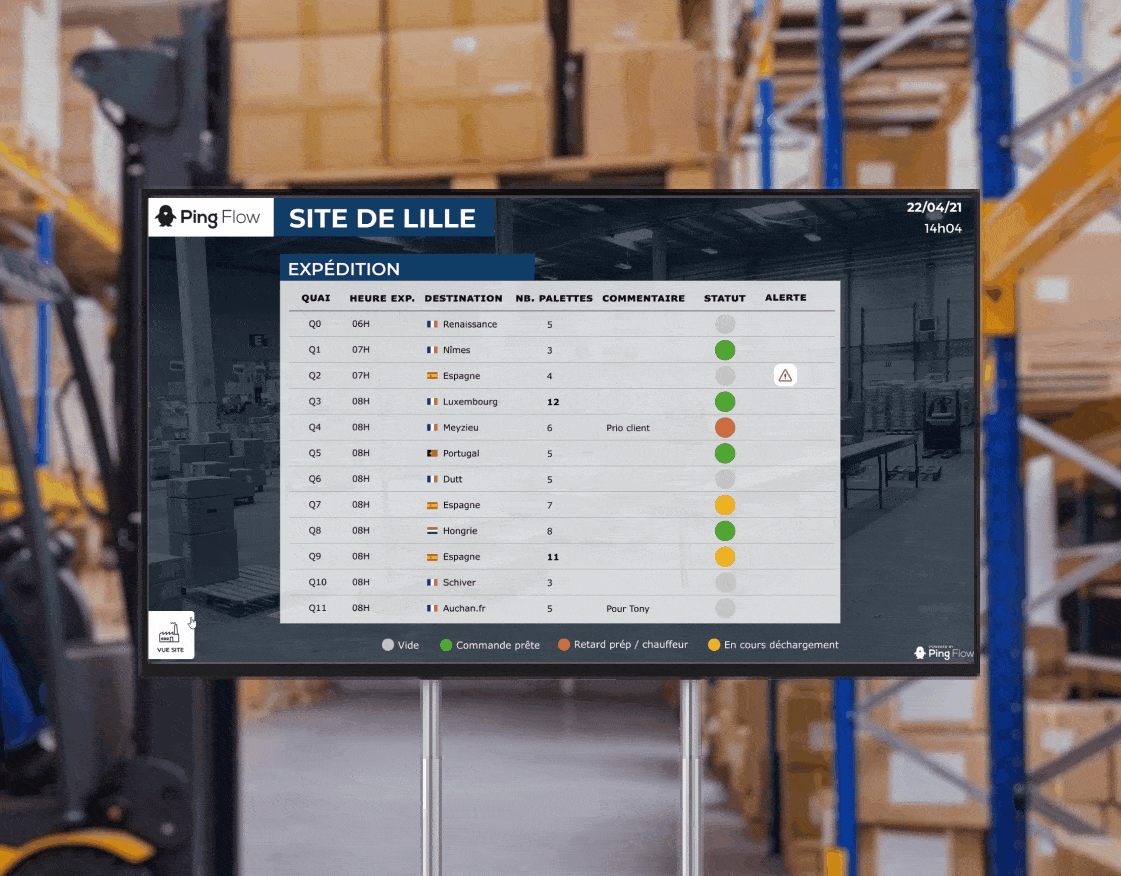 Logistique
The view makes it possible to distribute and rebalance resources between the different sectors.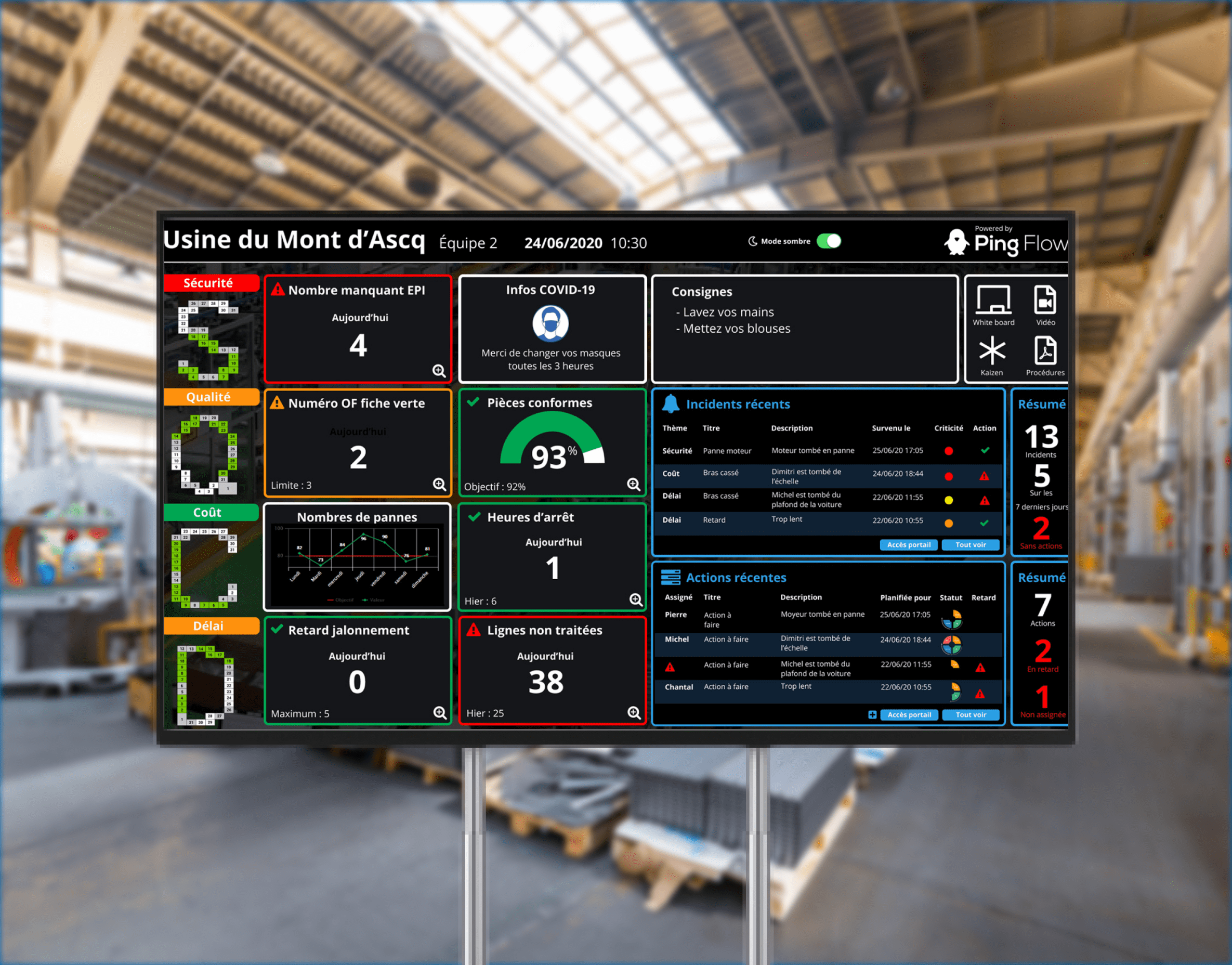 Gemba SIM Board
The Gembaboard allows to report incidents by the operators in industry. At a glance, we can then see the number of incidents reported over the 30 day rolling.
Operational excellence & perfomance management
A Human-centric and performance driven solution for your plants and operations will help you maintain competitiveness.  Digital visual management will boost your operations and activity with wallboards across your organization.
Digital and lean management
Leverage technology to reach management excellence. Wallboards are operational excellence tools fit to monitor manufacturing operation, daily meetings & continuous improvement.
Operation monitoring
Speed-up problem-solving with faster escalation and effortless KPIs updates. Your wallboards will display you live activity and alerts.

Andon and Gemba walk
Improve reactivity with a digital Andon system to get visual control allowing everyone to know immediately the operating state of the production (anomaly, advance/delay…).
Short interval Management
Digitizing performance management with digital wallboards  with live KPI and monitor and escalate  corrective actions throughout the full PDCA cycle.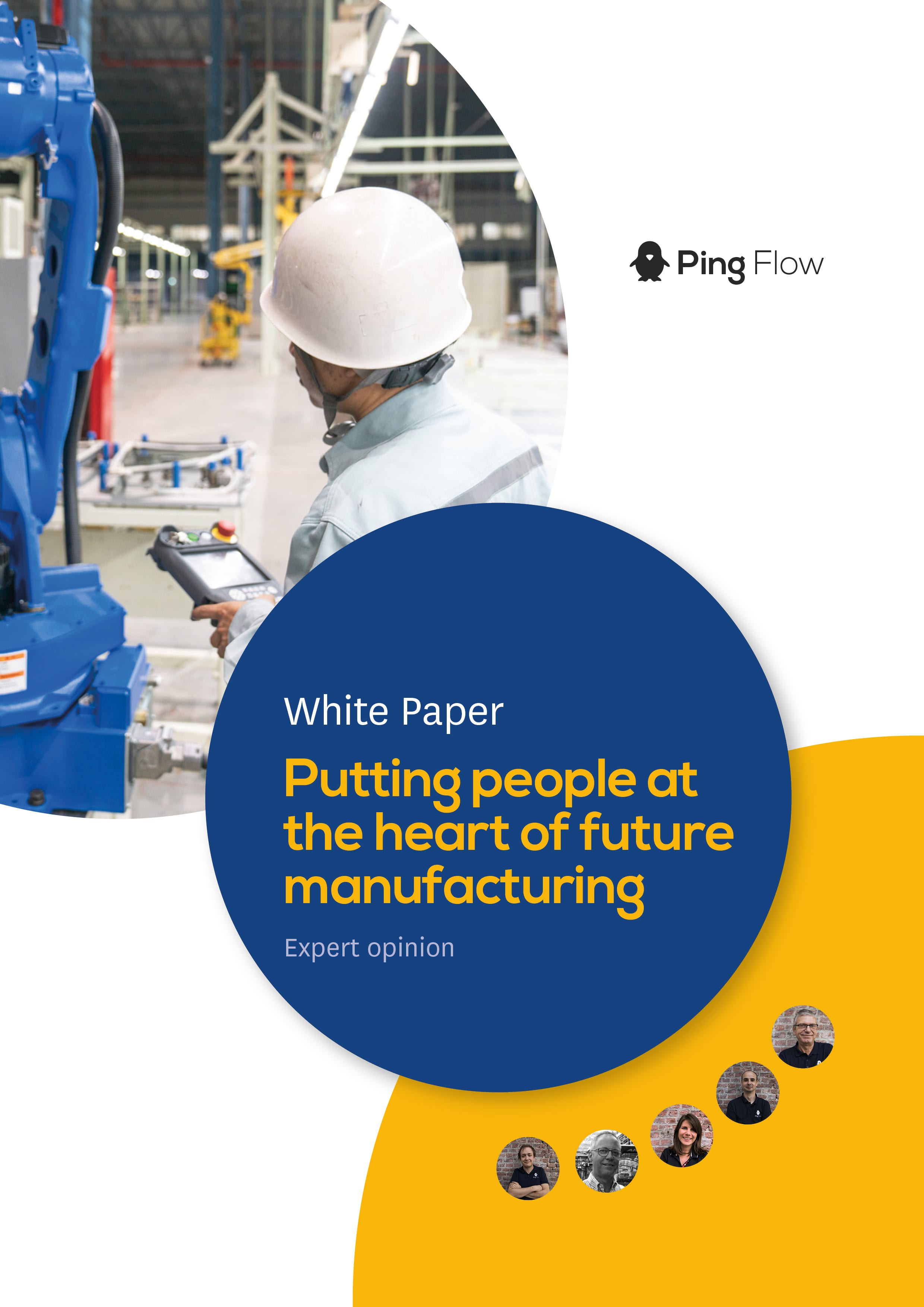 White paper
New technologies offer industry the opportunity to have a human centric approach of the maufacturing process. How? By empowering operators to take decisions at the right time, by giving managers the tools to build close relationships with their teams, but also by giving strategic direction to the shopfloor operators.
Industry 4.0: they trust us
From Safran to Toyota, we drive our clients in their operational excellence approach thanks to visual management.
Contact us!
For details of our use cases, solutions or business approach, please feel free to send us a message!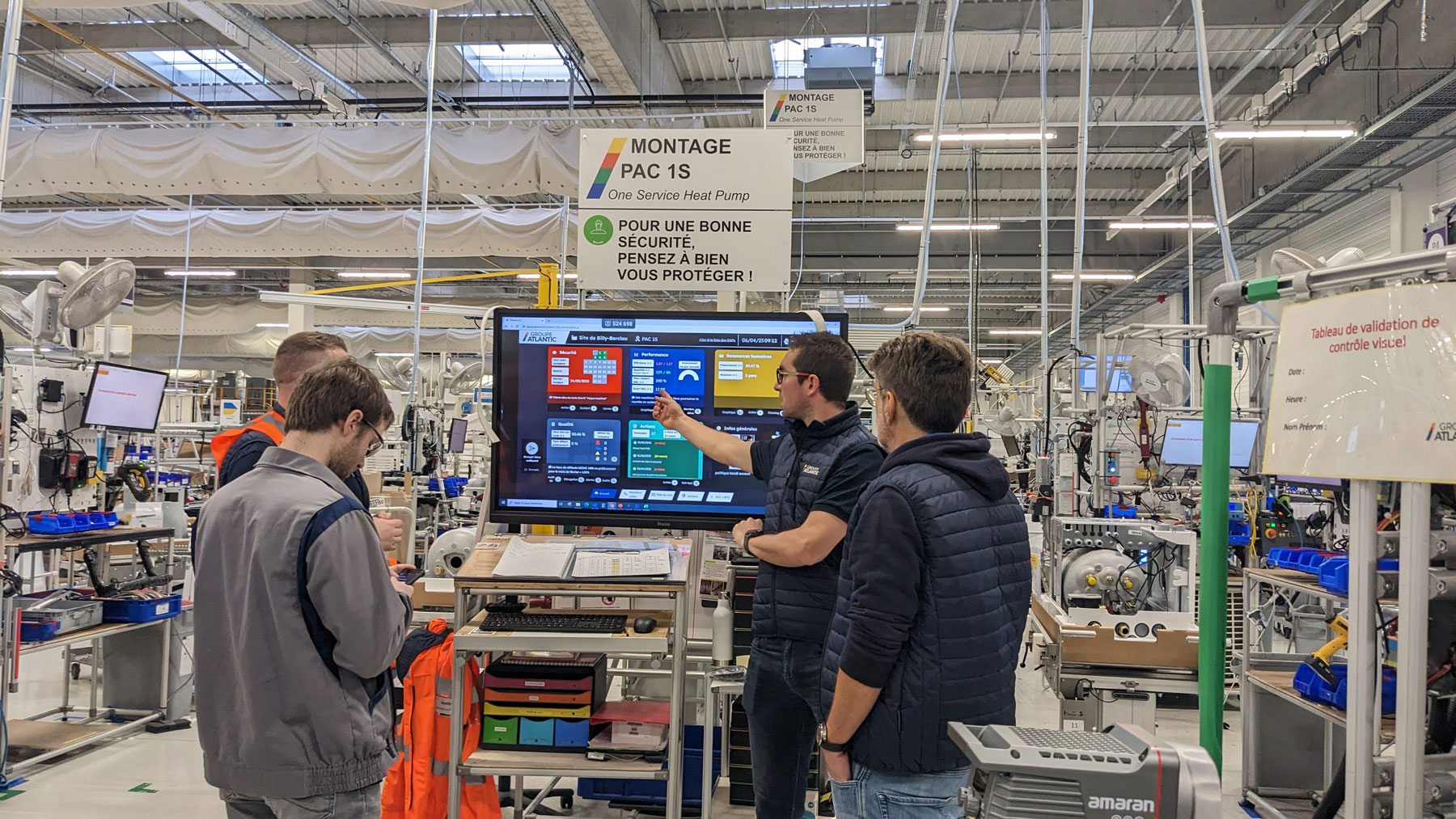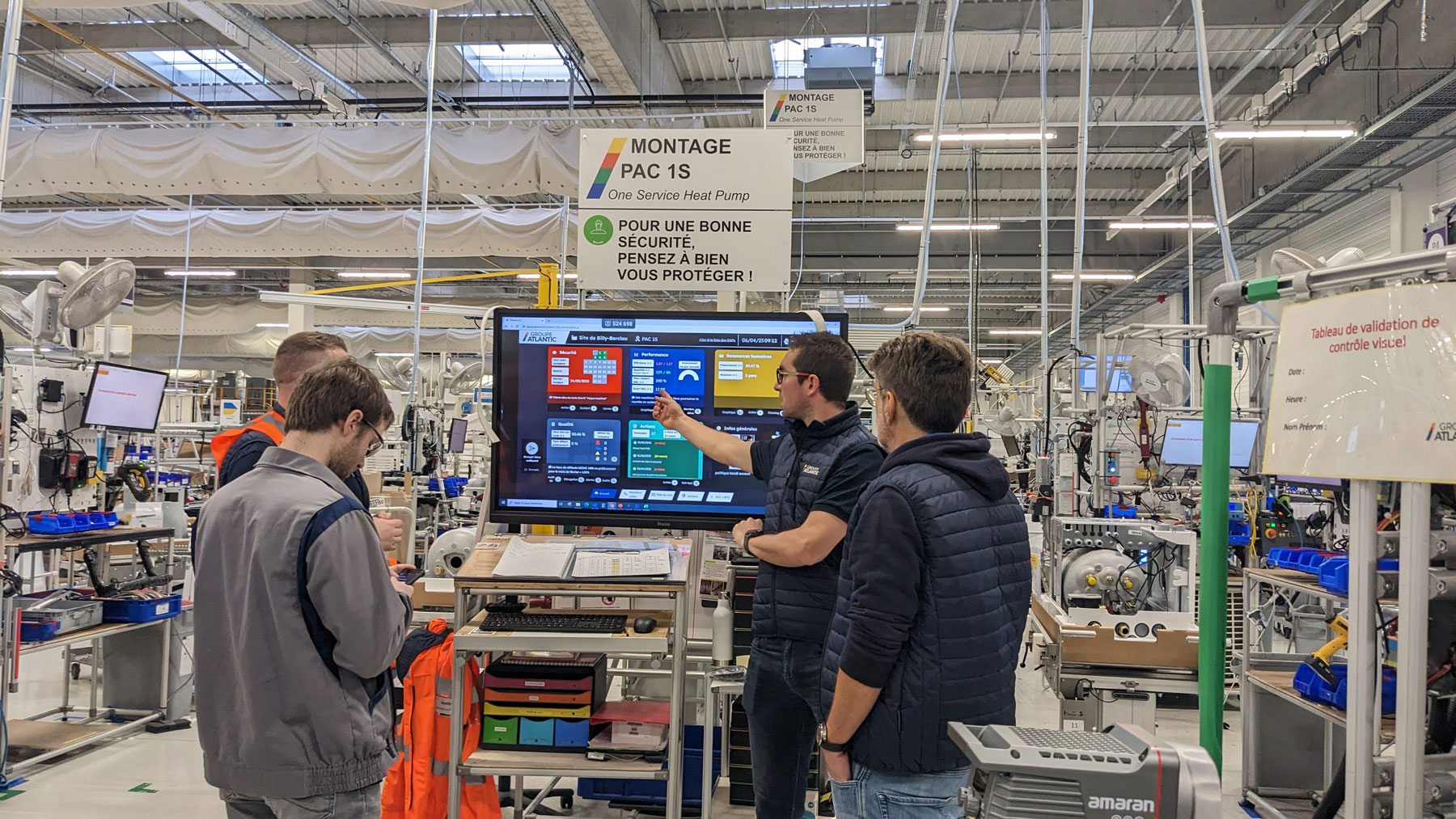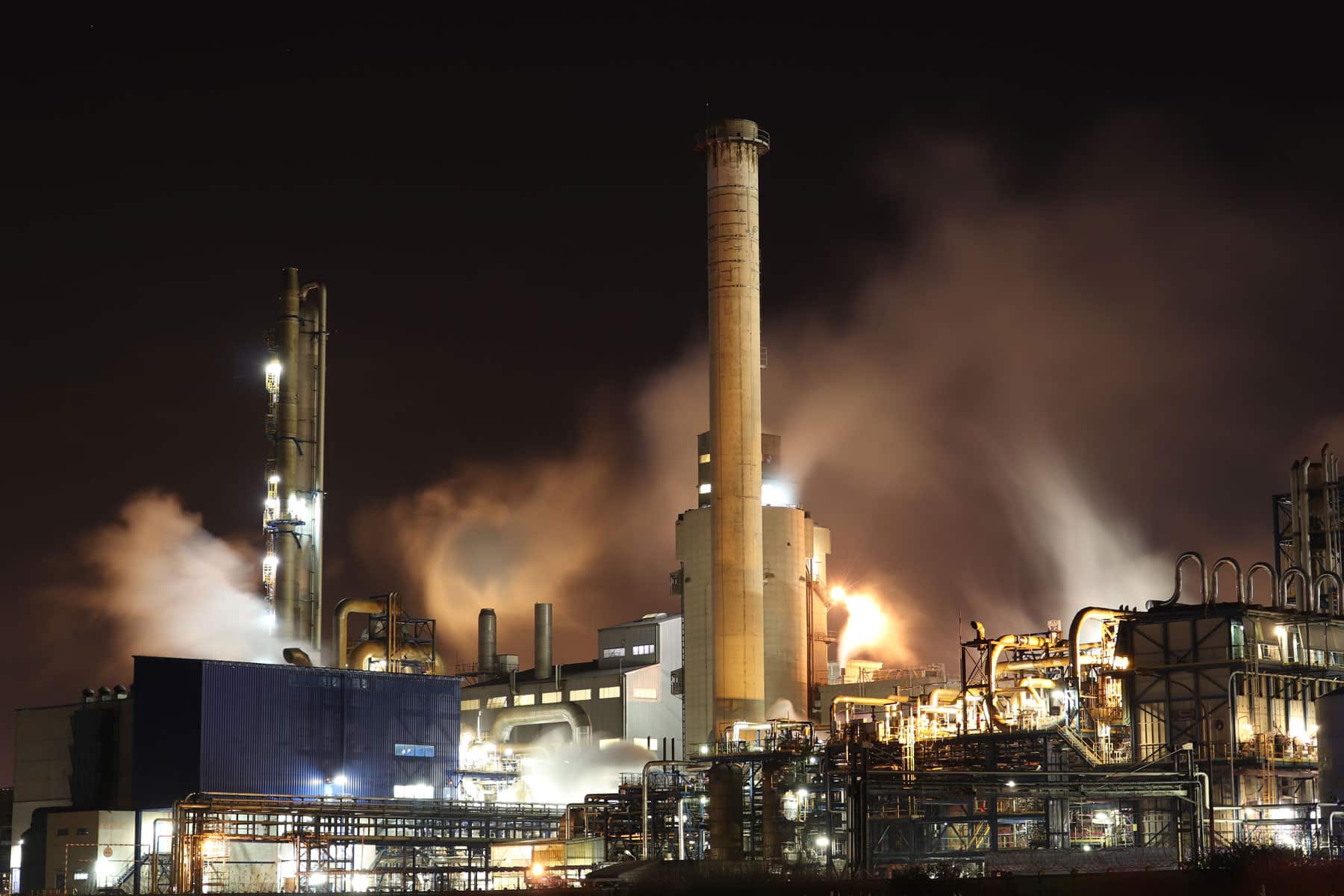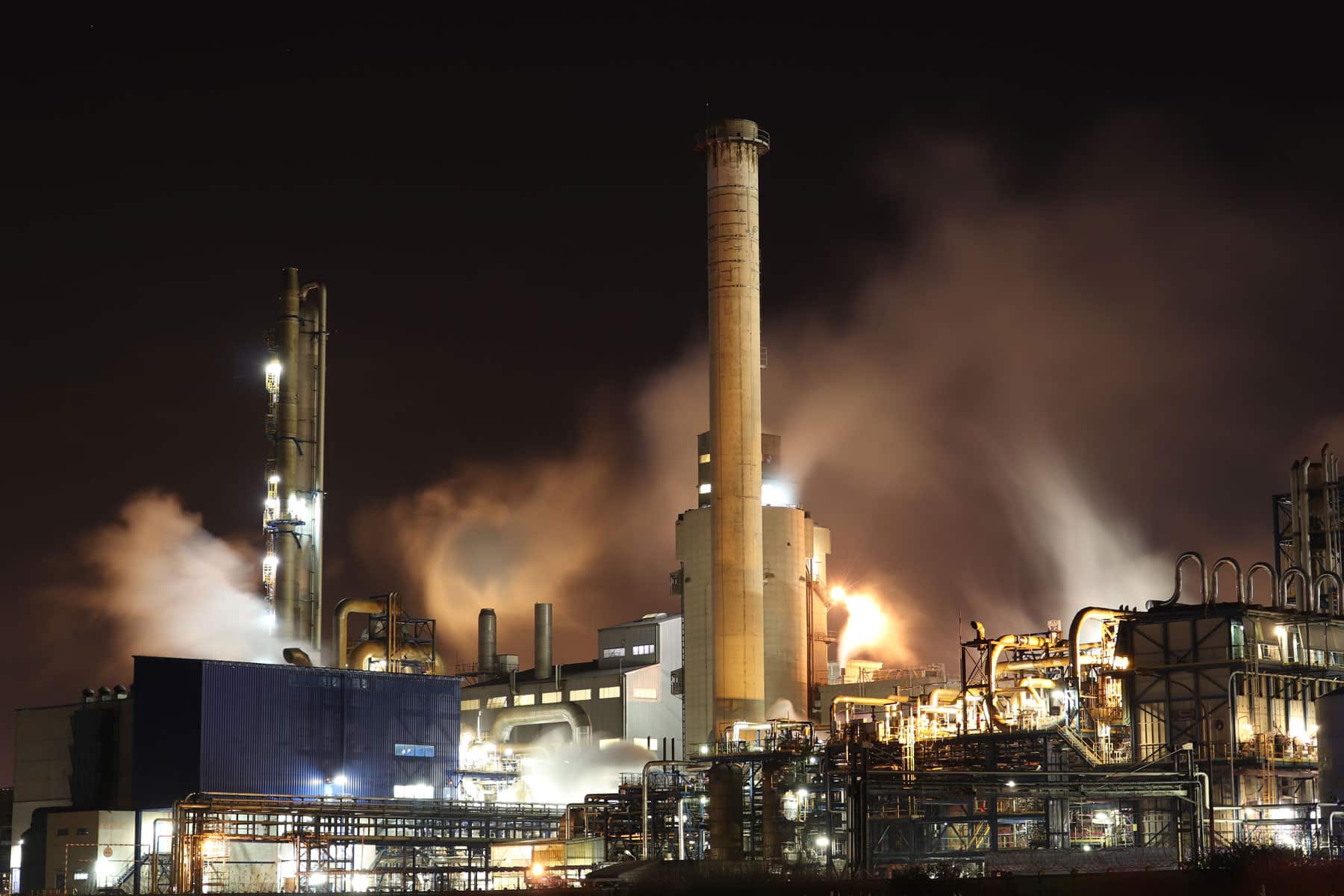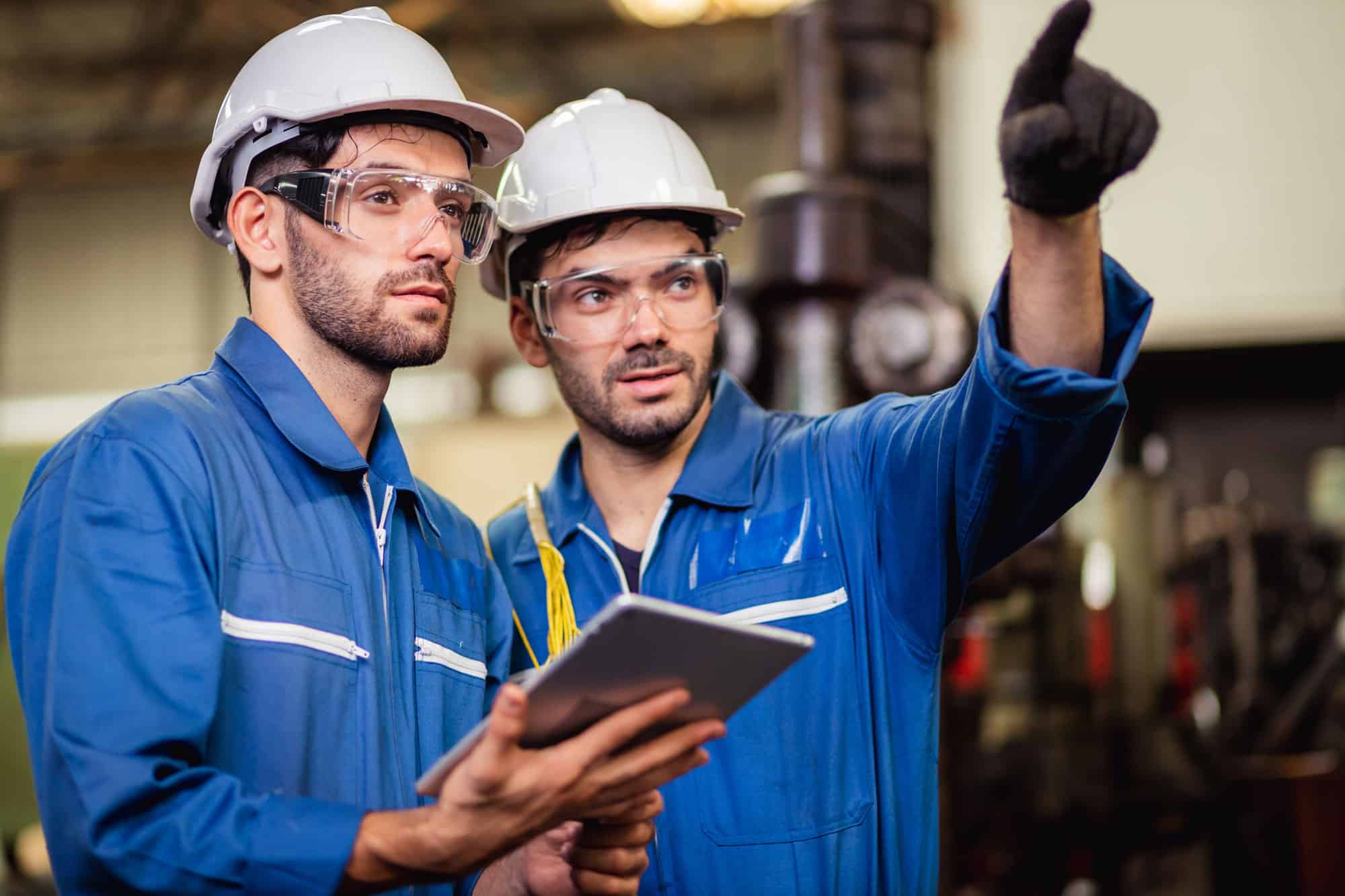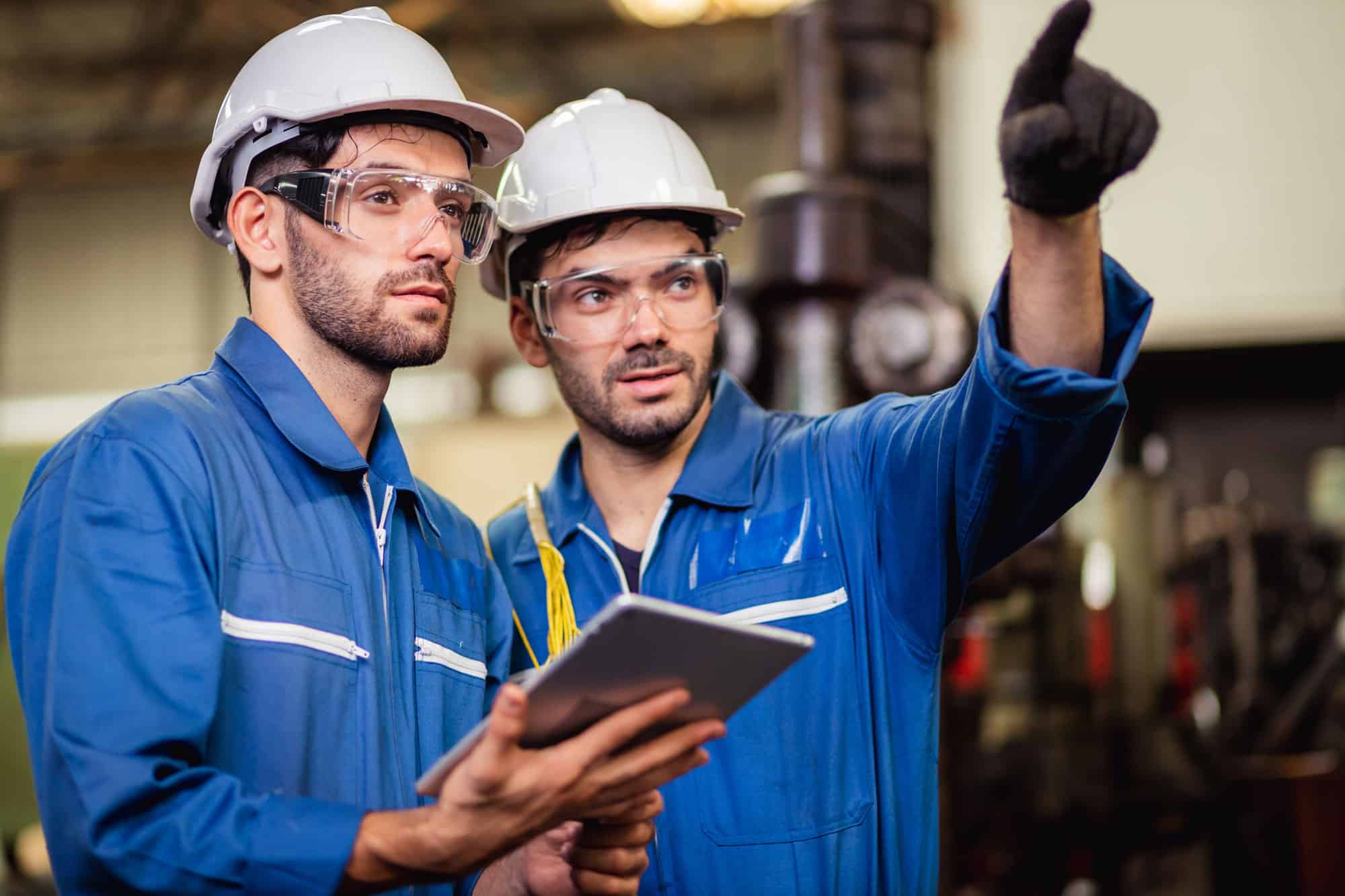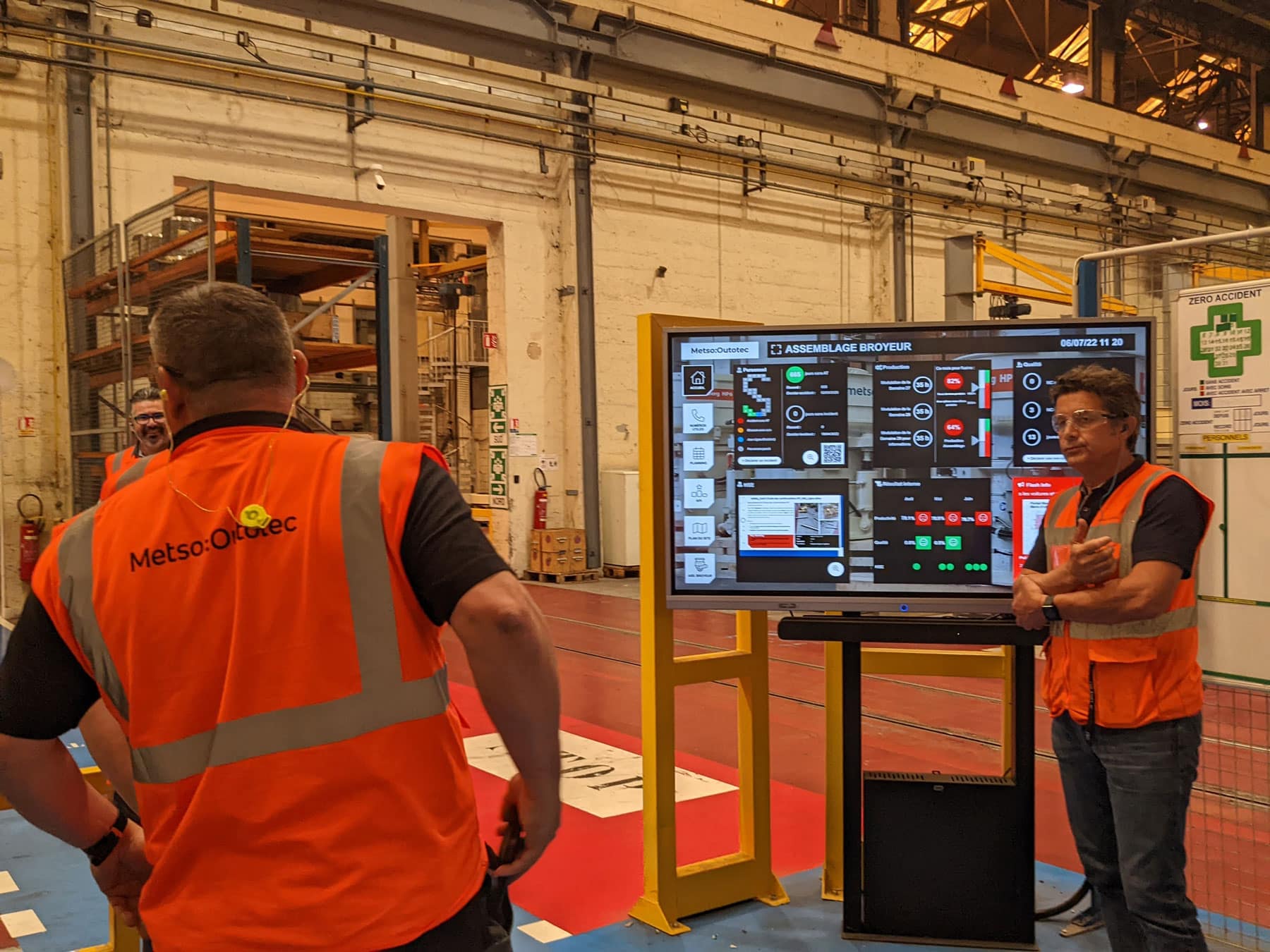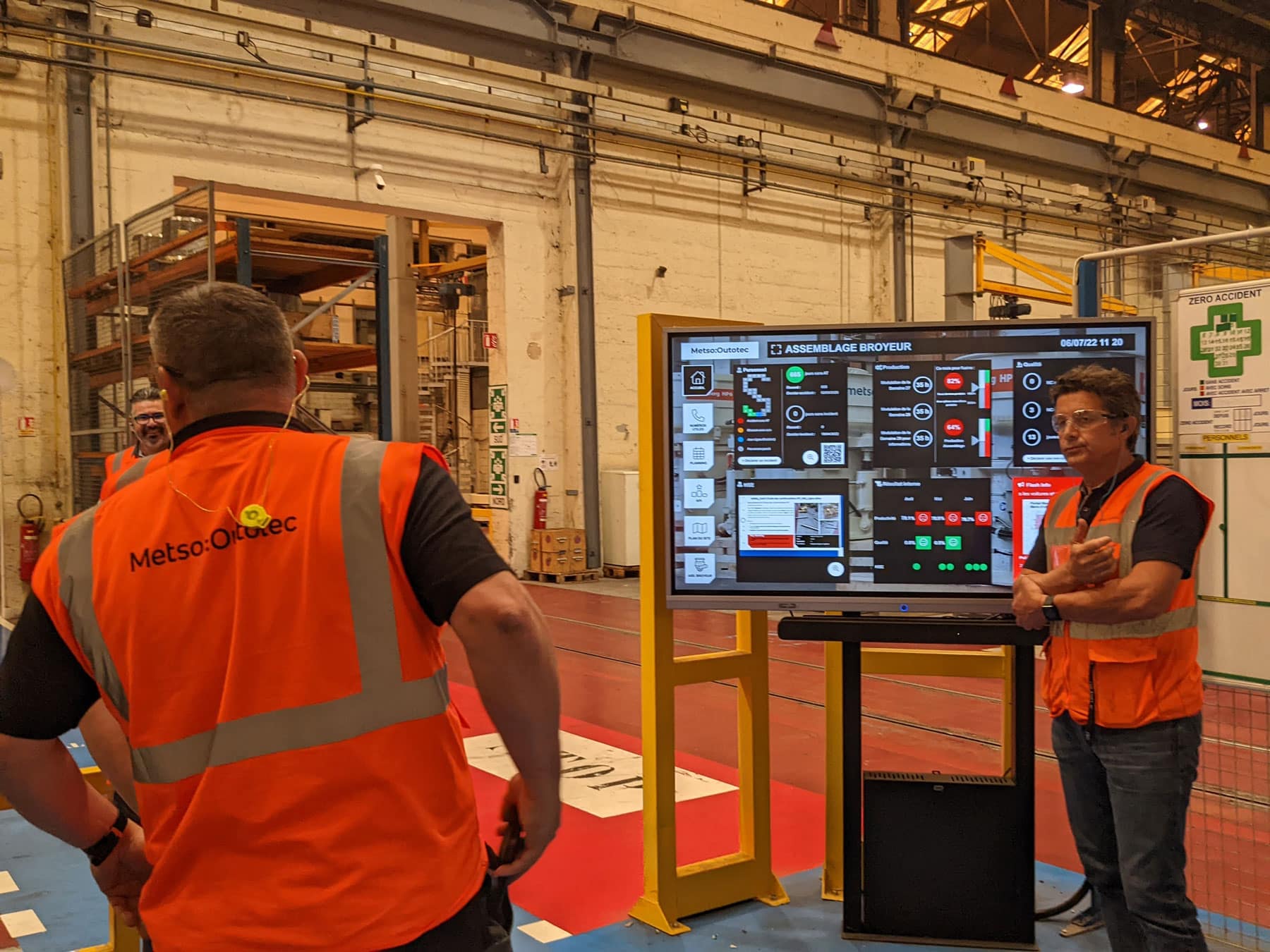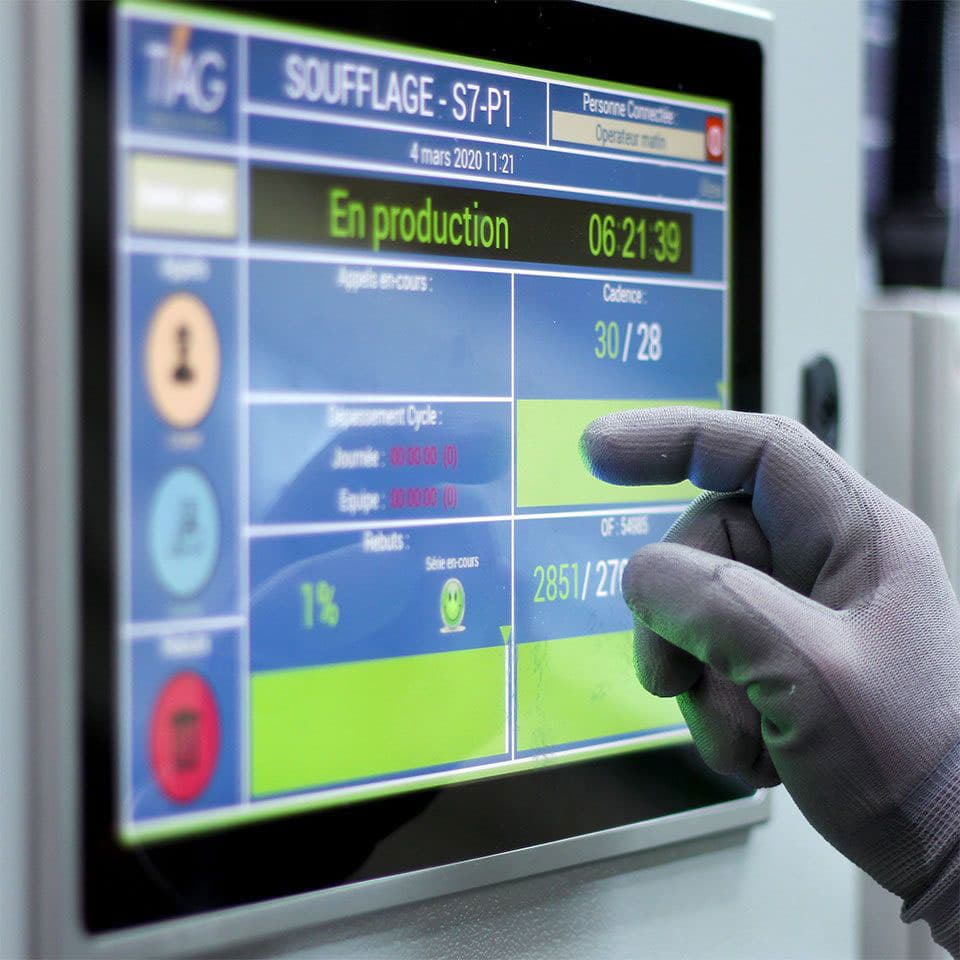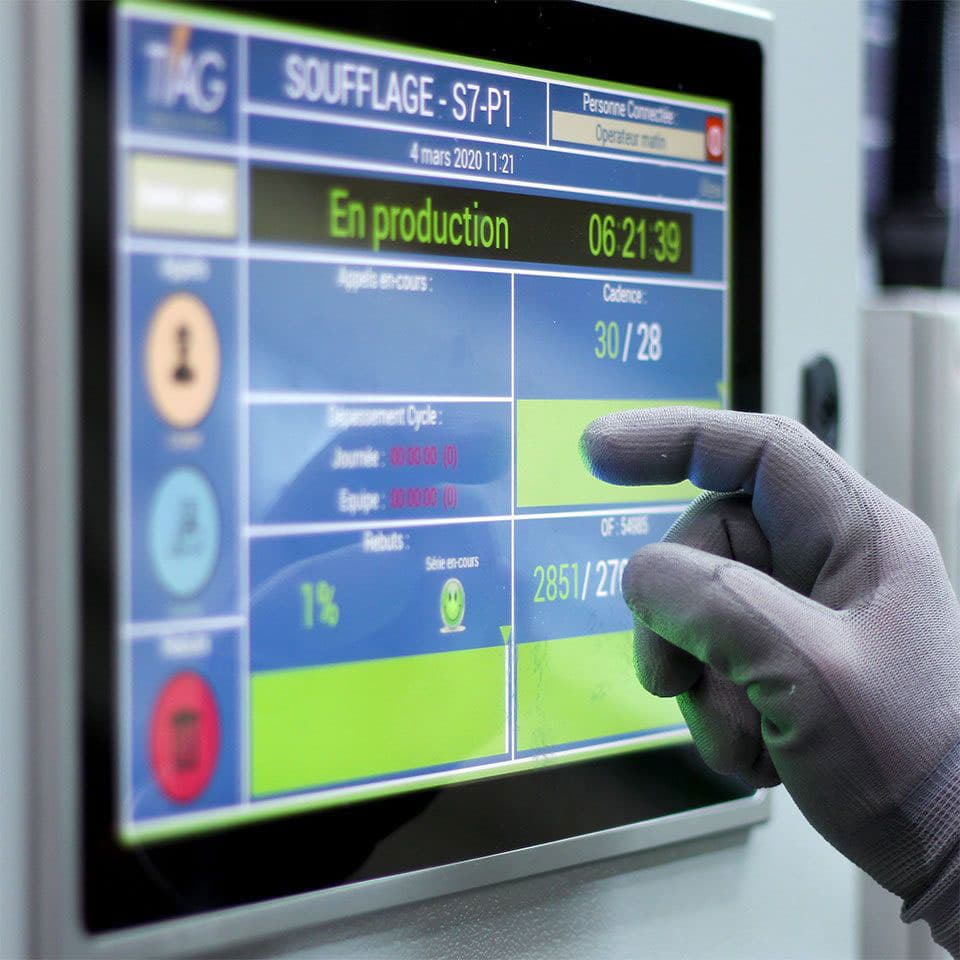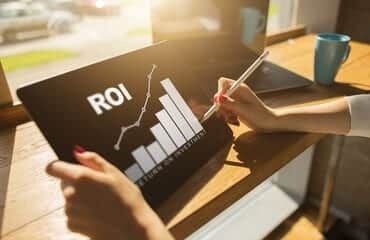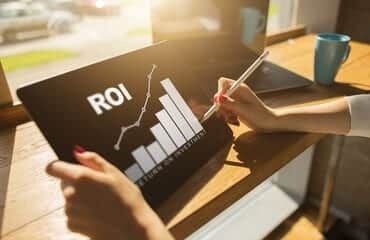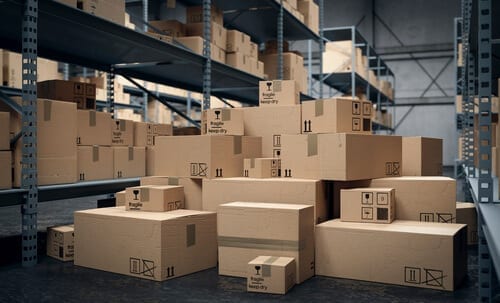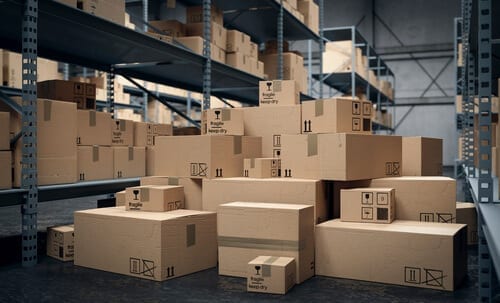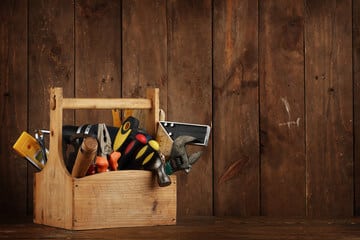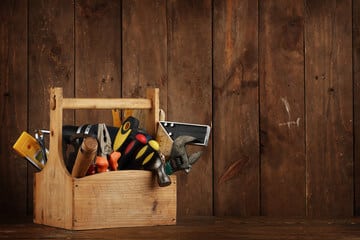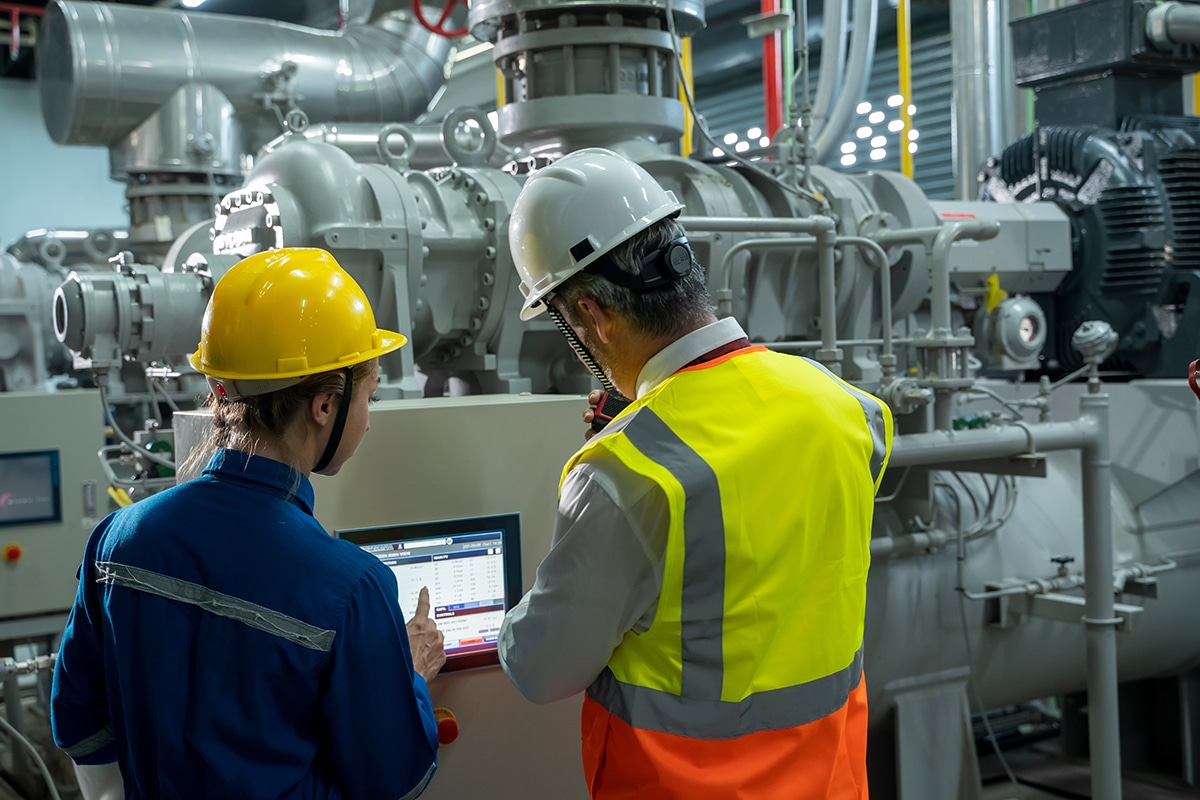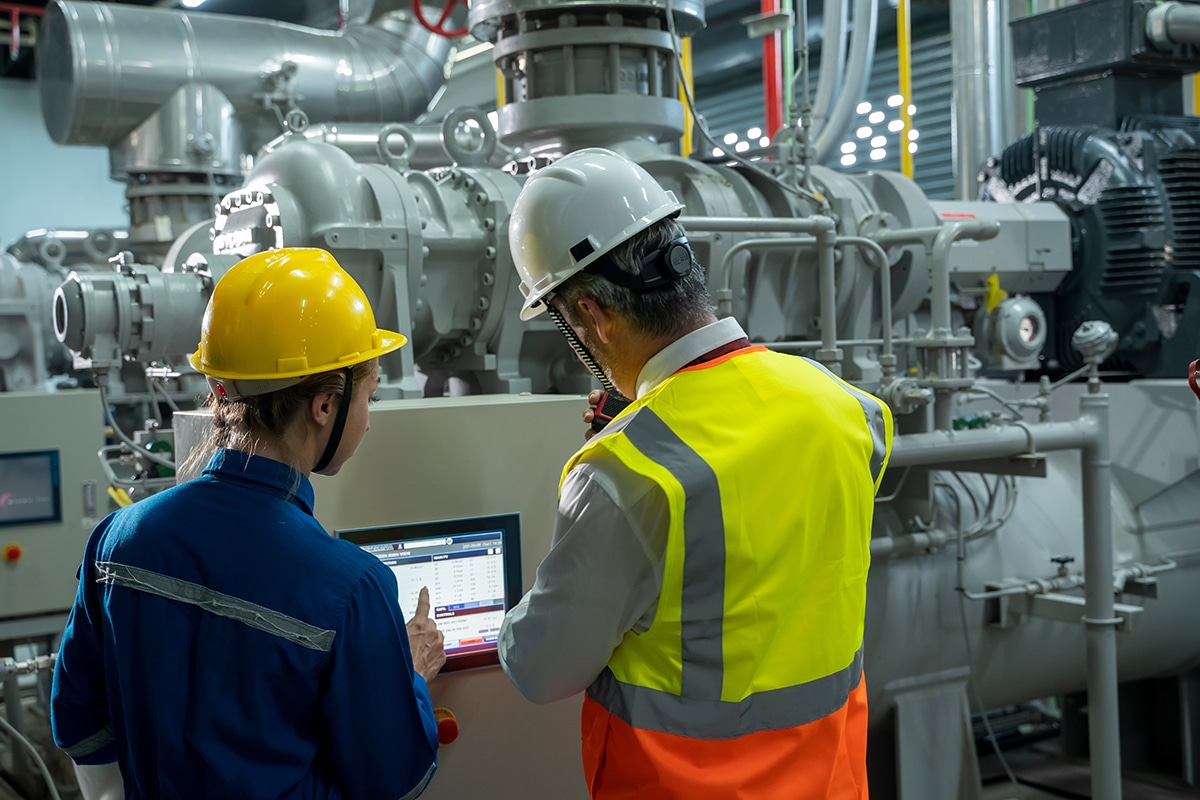 Blog
Find our latest articles on 4.0 industry trends and the factory of the future.